Time is the key in outstanding competitors and taking your niche. We gathered some tips that will help you launch quickly and efficiently. Implementing one or all of them will make your eCommerce site start effortless and budget-saving.
Start with MVP based on a readymade eCommerce solution
One of the clients came to us with a request to launch as quickly as possible. The client's team has already chosen the CS-Cart platform for a quick start as the default solution met almost all their requirements for functionality. We also needed to integrate some features to connect dealers to the platform. To timely ship all modifications we worked by sprints according to the Agile methodology. The project was launched just in three months and now after 5 years it is present in 17 countries.
Choose a theme instead of unique design and add-ons to replace custom modifications
A readymade theme is the solution for a fast launch within MVP. You can slightly modify it by changing colors and shifting some content blocks to comply with your company brand book. Once you release your site, we can make a complete redesign with unique features that proved to be necessary based on the user preferences.
Add-ons developed for CS-Cart are nothing but the most frequent modifications that users asked to expand functionality. They are fixed modifications completed as additional building blocks to enhance your site functionality in one or another direction. It may happen that their scope of capabilities will be enough at the first stage of your project growth.
Use architecture design service to plan your site scaling in advance
An expert-assisted launch will save your time and money. A miser pays twice. With a well-thought site architecture, your site will evolve according to a plan. You won't need to redo something. Besides, the site architects know the platform better and can recommend what to develop and what is present by default. Find more about architecture design here.
Work by sprints using agile methodology
In our company, we use the agile approach to development. It is done by a dedicated development team through the architecture design service. The team works by sprints and reports to the customer at the agreed time. If the project is large and has fuzzy requirements, then the Agile methodology is your perfect fit as it is possible to include new requirements as development progresses.
Hire a dedicated team that focuses only on your tasks and work upon your request not specification
Edmund, the Jackpykeshop business owner, asked us about PCI compliance: PayPal threatened to impose restrictions on his website account due to non-compliance with the PayPal security requirements. He ordered a check of his server from the Trustwave service. Successful completion of the check is necessary for PayPal to give the permission to accept payments. Some components of CS-Cart were required to be rewritten to meet the requirements.
We worked as per specification first, scan tests were becoming better with every modification, but still pass points were not enough to fully comply. Edmund asked us for a dedicated development team that could take on the issue entirely. Despite the small package of development hours, the guys did a good job and just in time. The client managed to keep the integration with the payment system.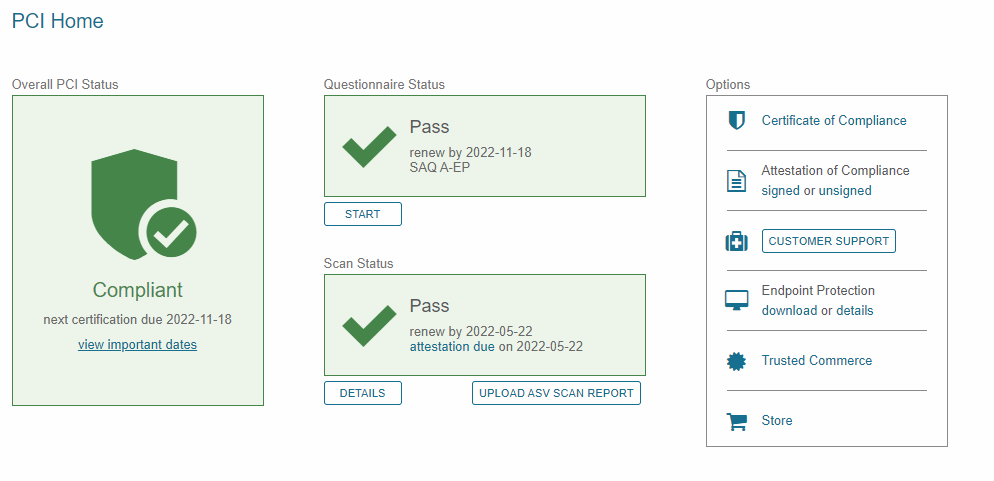 Try first selling electronic products that do not entail shipping hassle
Digital products are perfect to sell in the digital era. Not only because they don't need a warehouse, a logistic chain in place, or they cannot run out of stock. In this digital era, and at any time when social distancing may be required, having electronically distributed items in your product range can let your business keep the head above water and even grow. You can find examples of digital product marketplaces in one of our articles.
Analyse your users from the very start to choose the further growth direction and scale wisely adding the necessary features
Another request of our client was to create online marketplace. After studying the project background, we shortly found out that the online store solution with multiple storefronts will best suit the business needs. There are a number of dealers from different countries on the project who refused to shift from their accustomed ERP system and learn some new system interface. With a one-seller solution, dealers don't need to run their vendor panels. The ERP system was smoothly integrated with CS-Cart. All order related data is exchanged between two systems on a schedule. The store of our client is now based on the CS-Cart Ultimate platform with the infrastructure managed by our hosting team, designed and customized for better dealer and ERP management. The convenience of the offered solution was not the last point in their opting for going online with CS-Cart and our team experted assistance.
Don't underestimate the power of community
Connect blog, run a forum, social media, attract ambassadors to your site.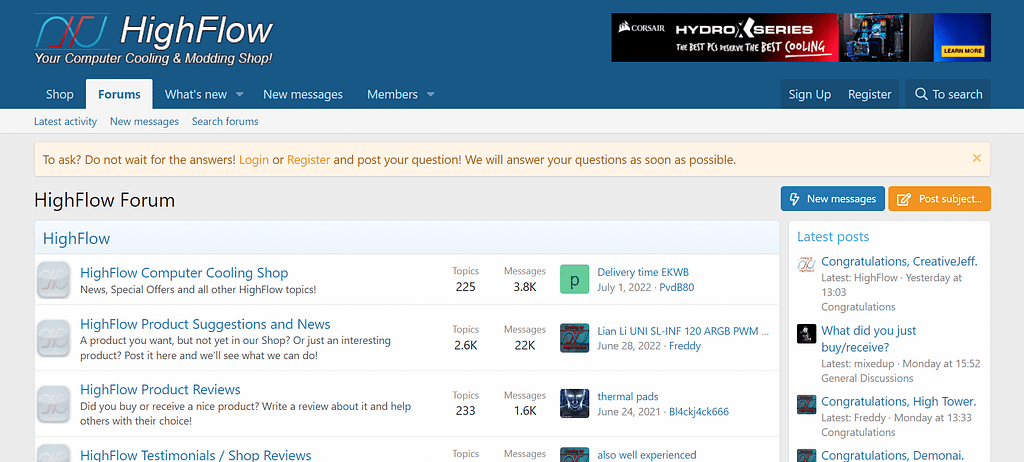 HighFlow is an online store from the Netherlands offering PC cooling and modding. People love it for its design, assortment of products, fast delivery, and RMA process. But that was not the last point in creating loyalty in customers. The project owner runs a forum to consult consumers, share ideas and resolve concerns. In their turn, loyal users become true brand ambassadors that know what they pay for and are deeply connected with the product they use.
What do our experts say?