We often hear that just because something is new doesn't mean it is good. However, today's post will prove that having an upgraded CS-Cart store is always good.
We have assembled a list of top popular questions about the CS-Cart store upgrade asked by our clients in an attempt to predict any possible concern and help you make an educated decision about your store upgrade.
The "Why upgrade?' question earned itself the top position in our list, and we'll get to it in a moment. But before, let's ask ourselves: why would we want to stick to a basic cell phone when there are smartphones available out there that give us so much more value: instant messengers, GPS navigation, productivity apps, you name it.
It's too obvious, with outdated technology, we simply can't be functional in today's fast-paced world and respond to its constant demands.
The same applies to eCommerce entrepreneurship: businesses that ignore technology advancement can no longer compete and quickly drop out of the game.
And one way to stay updated on eCommerce technology is to keep your store upgraded.
#1 Why do I need to upgrade my CS-Cart store?
The CS-Cart team is constantly monitoring the eCommerce market to stay fully cognizant of the latest eCommerce influences. That's why our upgrades allow your CS-Cart store to evolve together with the eCommerce market.
The main improvement directions are performance, feature richness, and fixes. CS-Cart developers team constantly works on fixing issues, improvements and adding new must-have features to the platform. During a year, they release at least 4 new improved versions.
For example, there is one particular feature version 4.10 and above has – compliance with the new SCA (Strong Customer Authentication) regulations. And if you want to become compliant with the latest European requirements, store upgrade shouldn't even be a question.
#2 What CS-Cart version should I upgrade to?
It's not always necessary to be on the latest version.
Check out the full list of the latest features and improvements in CS-Cart version history.
#3 How often should I upgrade the store?
Our recommendation is to upgrade the store once a year approximately.
When your online store functions slowly and you start to notice bugs, it is probably high time to upgrade. However, many eCommerce entrepreneurs do not upgrade until something goes fundamentally wrong with their stores. They end up spending a lot of money on resolving the issues and the forced upgrade.
Regular updates will prevent such scenarios. So consider making a store upgrade your new annual habit. It will be more effective and you won't spend too much of a budget on each upgrade.
#4 Why 4.3.4 to 4.4.2 upgrade cost us much less than the quote we are getting now for 4.4.2 to 4.11.2 upgrade?
The upgrade from 4.4.2 to 4.11.2 is bigger and has more major differences in the versions, namely:
the admin panel is now responsive,
new email, documents templates,
jQuery version has been updated,
new rules and templates in the code,
major improvements and new functionality has been introduced (please check CS-Cart release announcements),
new security fixes and bug fixes.
#5 Can we upgrade our website ourselves without hiring developers?
Yes, you have an opportunity to self-upgrade if you have an upgrade subscription. With it, the Upgrade center is available in your store administration panel.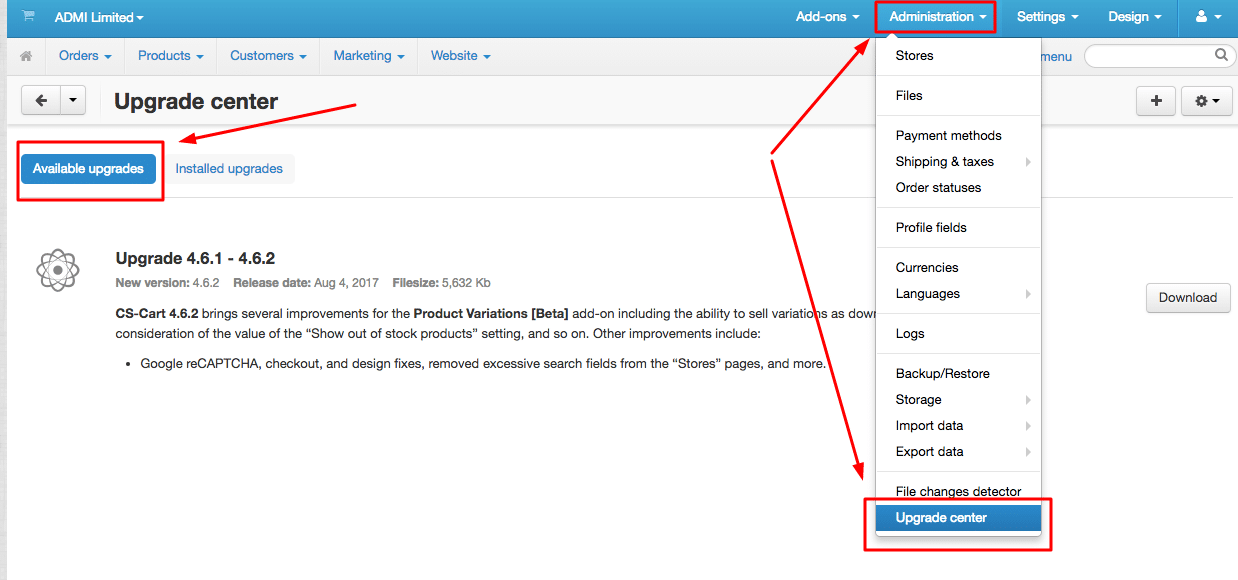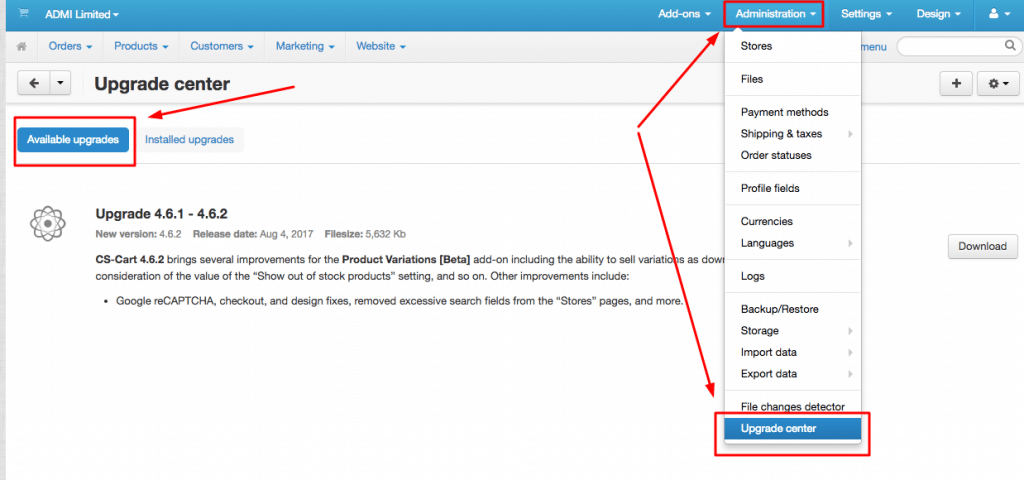 Free 1-year upgrade subscription is accessible right after you buy a CS-Cart or Multi-Vendor license. This means you can get new CS-Cart or Multi-Vendor versions for free throughout that year. A reminder: during a year CS-Cart releases at least 4 new versions.
In case your upgrade subscription has been expired, you can always request to get it prolonged.
However, if you have a bunch of add-ons that has been customized to your specific business requirements, our experts strongly recommend hiring a dedicated team for an upgrade service, otherwise, you will run the risk of losing some or all the customizations.
#6 We are planning on finally launching our site in a week and we would like to have everything updated by then. Is it a good idea to update to the latest version of Multi-Vendor now?
The upgrade service is a complex process and our experts do not recommend performing it right before the website launch to the public. The length of the process depends on many factors, and if the store had been heavily customized, there is a chance the upgrade won't meet the deadline.
In order to examine the complexity of the works, our team has to examine your CS-Cart store. For that, you will be asked to provide an access to the admin panel of your store.
If you do decide to go with the upgrade, keep in mind that you will need to stop working with the store major settings, for example, add banners, create new options/features, etc. while our team is performing an upgrade. Further, your live store will be closed for about 6 hours to get the final actualization done.
It's not always necessary to be on the latest version. Our recommendation is to upgrade the store once a year approximately. It will be more effective: in this case, each subsequent upgrade won't take much time and money.
#7 What does the process of the upgrade include?
In short, the upgrade process includes the following:
Creation of a copy of your store on our server,
The upgrade of the store database on our server,
Transfer the upgraded database of the copy store to your live server after your confirmation,
Data actualization.
Additionally, you can request for the storefront theme and add-ons upgrade.
You can read about the process in more detail in the HOW#5. Expert-assisted upgrade section of the article.
And also, we have a visualization of the process available in the infographic below:
#8 What is data actualization during the upgrade process
From the moment the backend developer has created a copy of the client's live store on our server, with every minute, the database of the copied store is getting more different from the database of the live store:
records of the new orders, newly registered users, product information and promotion changes by admin are all added to the live store database and therefore the database of the copied store gets outdated with every minute.
During the actualization process, our developers need to transfer those new records from the live store database to the database of the copied store. They temporarily close the live store so that no changes (no records) were added to the live store database and perform the synchronization between the two databases.
The actualization process takes from 2 to 8 hours depending on the size of the store database.
#9 We have a third-party theme and add-ons. Can you upgrade those as well?
Yes, we can if you provide us with access to your developer account or the latest archive versions of the third-party theme/add-ons.
Also if your third-party theme/add-on upgrade subscription has been expired, make sure you get it renewed so that our developers can have access to the latest archives for the upgrade.
KEY TAKEAWAYS
Yes, eCommerce technology is developing at lightning speed. And constantly keeping up with changing technology might first feel too overwhelming, but speaking from the experience of our clients:
Regularity is key!
Don't wait until your current version gets way outdated;
Upgrade your store once a year: eventually, you will save up much time, money and effort;
Have a lot of customizations? Hire an expert team to help you with the upgrade.
And last but not least, follow CS-Cart release announcements, read our blog articles and open our newsletters – we never spam – we only send you deals and news of the platform that you can take advantage of!
Having other questions about your store upgrade?