Do you plan to launch an eCommerce business? Or maybe you already have an online marketplace but are not satisfied with the tech solution? We introduce you to the CS-Cart Multi-Vendor platform – a ready-to-use solution created for eCommerce purposes. This system with over 500 features will help you build and launch your marketplace in days and easily expand when your business grows.
The Multi-Vendor ecosystem has four types of licenses: Standard (also referred to as Multi-Vendor), Plus, Ultimate, and Unlim and it might not be obvious which one to opt for. Here are the comparison guidelines we put together for you to weigh all pros and cons. In this article, we focus on two licenses – Standard and Plus.
Multi-Vendor License: What Is It?
Multi-vendor strategy is highly popular among business owners today. Having multiple sellers and products under one roof creates a great advantage and allows to attract more customers. This approach can be applied to any business area, whether you are running a rental, legal, or cleaning company, providing health care, online training, or selling consumer goods. Such an approach is suitable for fast-growing businesses.
CS-Cart Multi-Vendor is an eCommerce platform that allows you to build an online marketplace, gathering multiple merchants who offer their goods and services. They retail their products in your online shop, and you get commissions as a storekeeper. Its main purpose is to support vendors with selling online and leading businesses worldwide. Each vendor has their admin panel and storefront with all the necessary functions for digital commerce.
CS-Cart offers several on-premises software for marketplace development: Multi-Vendor Standard, Plus, Ultimate and Unlim packages with different sets of features. Once you choose the version you can sign up for an annual subscription or buy a lifetime license (for Unlim only). By buying a subscription, you also get timely updates on all purchased products and technical support. If you have any doubts, you can book a free call and get a consultation.
CS-Cart Multi-Vendor is an open source software relying on the best development practices, PHP code, CSS layouts, MySQL databases, Smarty template engine, and AJAX. The system is regularly updated to include new features and improve the overall performance of the eCommerce platform itself. For instance, one of the latest versions of Multi-Vendor added PayPal Checkout with 3D Secure 2 (security protocol for card payments). It helps prevent fraud and make online payments more reliable. Also, in the latest release, you can find improvements in bulk product editing which has become faster. The tool is particularly useful for large online stores and marketplaces, for example when you need to edit three features of a product, and there are hundreds of such products.
What to Choose: Standard or Plus License?
Both licenses include the same standard pack of features essential to building a modern functional marketplace. The Plus version has an expanded list of features and creates more opportunities to develop and grow businesses.
Here are some common features Standard and Plus versions have. Those are the core functionalities that make up the marketplace foundation.
A separate vendor panel. Every vendor joining your marketplace has their backend panel where they can work with catalogs, orders, view stats and reports, and control shipping and payments.
A separate store for every vendor. Each seller runs a mini store presenting products in their private space.
Sales, reports, and statistics. Through the panel, vendors can track their statistics, analyze sales and get reports. It helps them to understand how the business is doing and adjust the strategy and operating processes if necessary.
Import/export tool. A useful tool allowing bulk import and export of products according to the preset that you, as an admin, can create for every supplier. It simplifies the import process and makes it three times faster.
Advanced order management system for vendors to easily handle order processing, create, modify orders, and update statuses.
Advanced vendor payout system. Allows cutting the time on accounting by setting automated payouts to vendors.
Multiple integrated payment and shipping systems. There are dozens of built-in payment methods and shipping services, which give customers and sellers the freedom to choose the most convenient options.
The full list of common features is actually impressive: SEO tools, responsive themes, multiple languages, and currencies, layout editor, customizable checkout, and many more.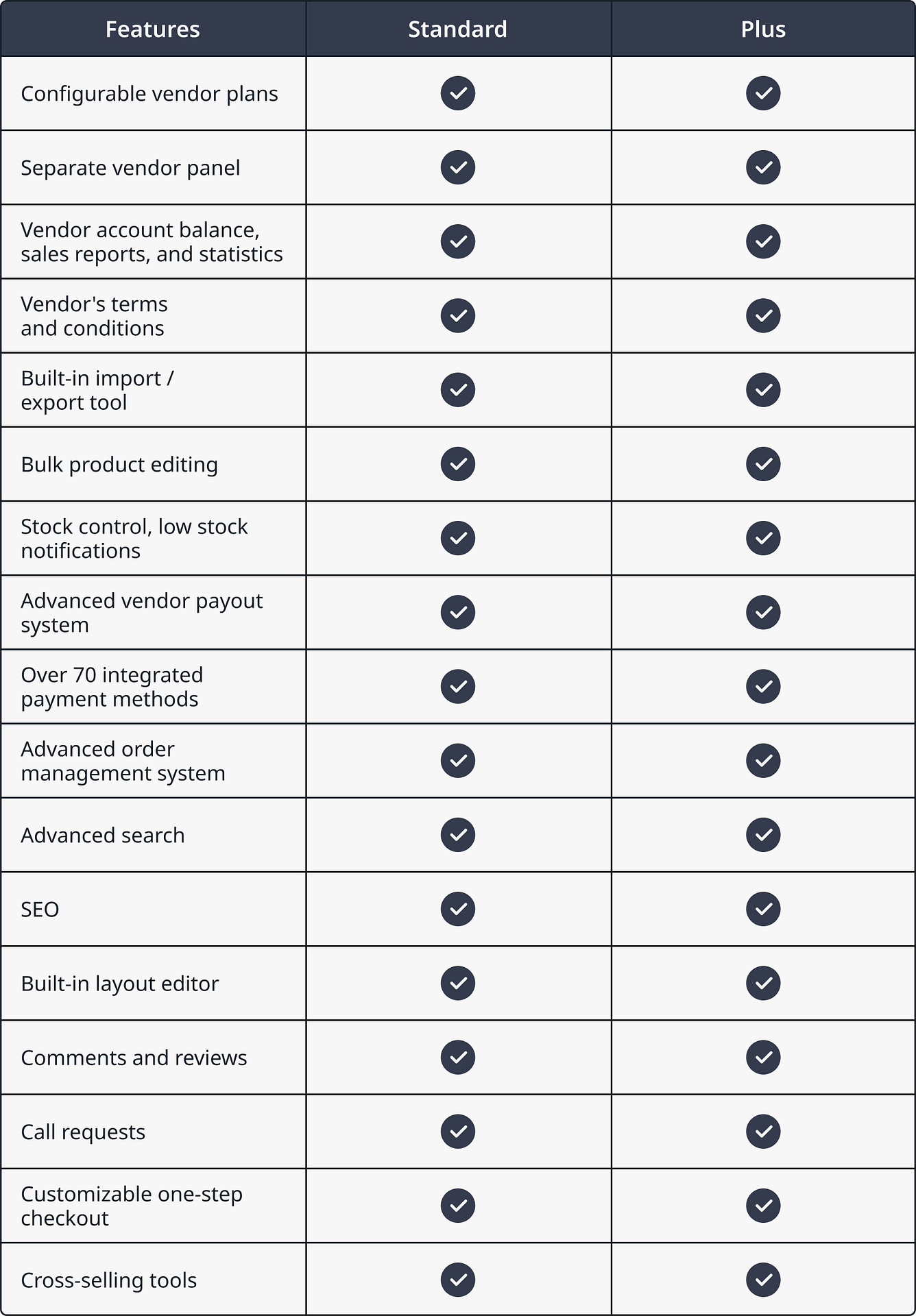 Recap. As you see, this feature list contains everything you need to build an average marketplace with basic functionality. With the Multi-Vendor Standard license, you can launch a working platform fast, attract multiple vendors, and provide them with all the needed tools for digital eCommerce.
Nevertheless, when you have a large eCommerce business that is already up and running, and want to leverage a more complex business structure, attract more vendors, and put them in charge of their mini stores, the functionality of the Standard version may not be enough. Multi-Vendor Plus, on the contrary, supplies you with additional features that you will need to expand the business.
The Key Difference Between Multi-Vendor and Multi-Vendor Plus
Let's review what differentiates Plus from Standard.
Mobile application. Multi-Vendor Plus provides you with access to open source code of a mobile app for $999/year. With access to the source code Simtech Development can help the client finalize the application. Multi-Vendor doesn't offer such a feature.
Common products for vendors. By creating a common product base, you will prevent vendors from filling the marketplace with multiple similar products. And listings will be nice and uniform.
Commissions by category. You can set the amount of commission based on the product category. As Multi-Vendor calculates how much each of the products in the order contributes to the final sum it helps address the situations when, for example, there is a discount for a particular category affecting the total.
Multiple levels of administrative rights. With this feature, you can set a more complex workflow where each employee will have access to certain areas and will be able to do their job without interfering with each other.
Advanced vendor restrictions. A marketplace admin has the power to control the vendor panel and hide or display menus, settings, and functions to make the panel more convenient.
Separate checkout. The feature makes it possible for customers to pay for products from different vendors separately. Admin of the marketplace does not need to bother with money distribution, payments go directly to vendors.
Besides all the basic features, Multi-Vendor Plus has some additional functionality. Thanks to it you can extend the possibilities of your site and get more management tools.
Learn more about CMS and marketplace development from our specialist. Get a free consultation to discuss your project.
To sum up
CS-Cart Multi-Vendor is a comprehensive solution for creating eCommerce products. Which license to choose depends on the specific case.
We recommend going with the Multi-Vendor Standard version for building an MVP or launching a small online marketplace. The platform has everything you need for a quick start in eCommerce. Multi-Vendor Plus will be better for larger marketplace businesses. For those who generate income, and have a flexible budget, the upgraded version is more suitable.
As a certified CS-Cart Golden Partner partner, Simtech Development keeps pace with the new trends and can easily add new custom functionality to the out-of-the-box software upon the client's request. The latter varies from easing the bulk product upload for vendors to expanding the payment methods and modification of the status system for vendors.