Cool New Features
Did you know that Google Analytics can track the speed of loading pages of your customers? This can be useful for monitoring the stability of the site, understanding in which regions or browsers the loading speed is worse, and how this loading speed affects your sales.
We have added the 'Site speed sample rate' setting that determines how often the site speed tracking beacons will be sent. Google Analytics by default automatically tracks only 1% of users. To track 100%, you should enable our setting in the General tab of the add-on settings.
We have greatly improved the SEO templates add-on functionality with the ability to select objects for applying templates for products, categories, images, and pages. For example, now you can select the categories for which you don't want to apply the template: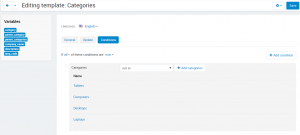 Another modification that our new customers can find especially useful is the default SEO templates for products, categories, images and pages that come with the add-on installation.
Small but cool feature — we have added the link to the vendor products page to the vendor's logo and name on the Followed vendors page. It will help your customers stay updated about the latest products added by the vendor.
---
List of Improved Add-ons
If you want to see what has been added or fixed in add-ons recently, you can follow the links below and have a look at the changelog section.