The Instagram service becomes more and more popular day by day. Built specifically for mobiles, this application is an easy way to attract visitors to your selling website promoting them to buy. So, it is unforgivable to lose this tool to increase sales on your website. We will take a ride on the most bright cases to show how to apply this simple but mighty tool wisely and how the Simtech Development Company can be of your help there.

Before starting your website promotion through Instagram, first, define what are the key strengthens of your store to showcase. In other words, your self-issue may sound like:

What is the purpose of using Instagram?

Most commonly Instagram is all about:
Brand awareness;
Personification;
Showcasing and promotion of goods and services;
Building a community around the brand;
Informing about events and special offers to tell about places where your customer can interact with you: your brick-and-mortar stores, if any, a conference you take part in;
Increasing the trust or showing how-tos to demonstrate the Company expertise;
Customer engagement in the brand life which is not directly connected with the brand itself (like charity) to improve your image and reputation in your audience eyes;
Making users cooperate with you by giving them a discount for a review or a photo with the Company product.
Best practices proved their effectiveness in raising traffic and sales:
Think about various ways of connecting your 'gram account with your online marketplace or shop. Try linktr.ee to indicate multiple channels at once, bitly to shorten the link and hide UTM tags used for analytics purposes or like2buy service to create a separate page showing shoppable links to direct users on the website for purchase. Let people know that your Instagram is now shoppable.
Allow users to pay you via WhatsApp and indicate that phone number in the profile block. Integrate WhatsApp payment with your eCommerce platform to get the same transaction channel on your web-shop.
Put contact information in the profile block: website link in bio, email or phone number. Add more details about what you do.
Use hashtags. Do some hashtag research to find out which hashtags your customers are searching for with a tool like hashtagify. Put it in the profile block to advise your followers to promote themselves with your products. The user-generated content (UGC) increases the trust, engages the audience and builds a devoted community around you. Put hashtags at the end of product descriptions to avoid diverting attention from the important information. Use a hashtag like #commentfororder to gather leads and funnel them. Always promote opportunities your offer for followers to make it work for you.
Chat online with clients. The quicker your response is, the faster your lead will turn into the customer. Sell right in the comments.
Partner with influencers for indirect sales: bloggers or other companies completing your brand image or matching your brand philosophy. Think about ambassadorship, endorsement and affiliate programs. You can hire people sharing your brand idea to advertise in a more natural way. Reward promoters with affiliates' fees right on your eCommerce platform.
Here are a few examples of effective Insta account use:
Wise Insta features to borrow from Robemart, a bathrobe tailoring brand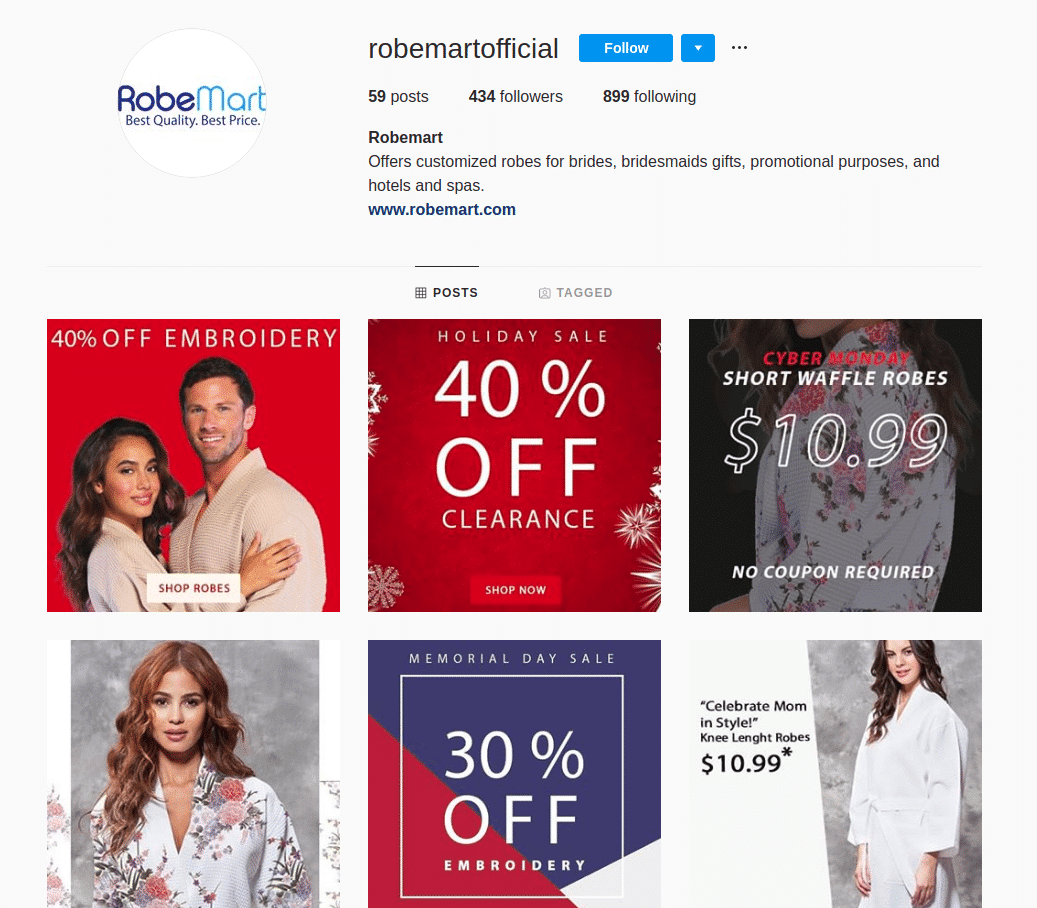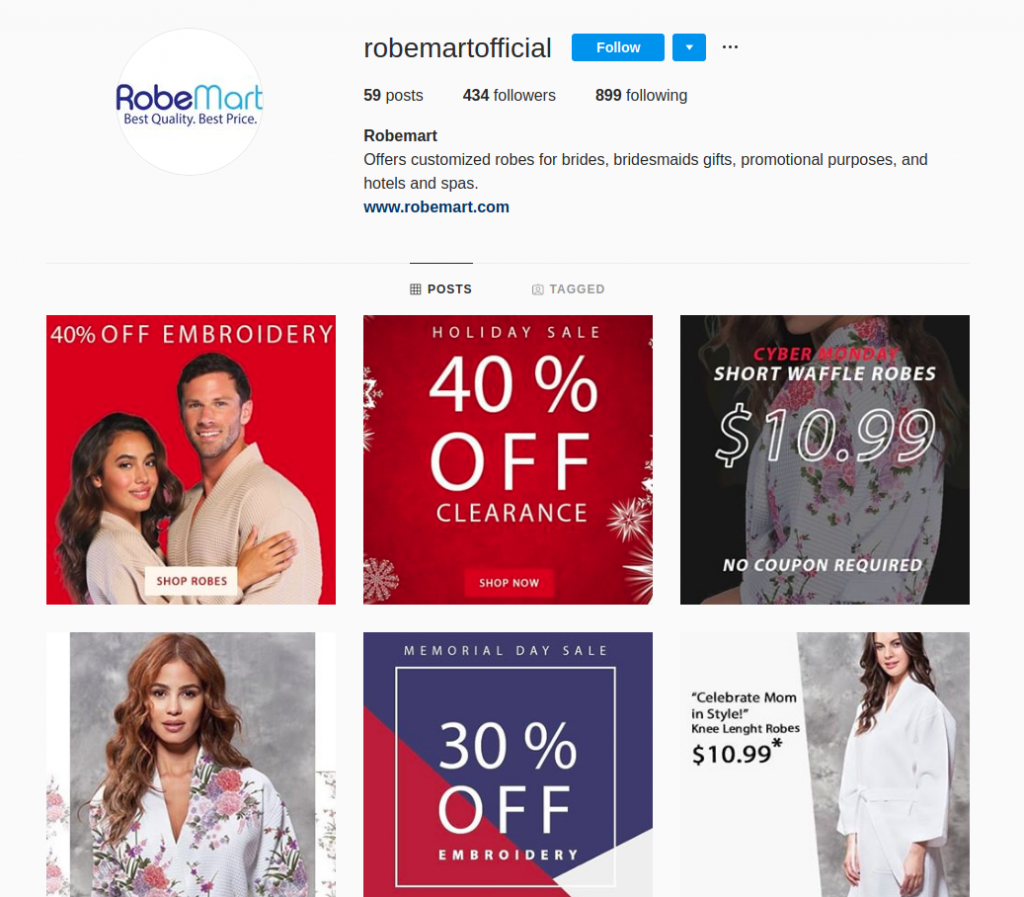 Demonstrate products and their usage;
Informing about news and giveaways.
Wise Insta features to borrow from Mobile Bitz, a mobile repair brand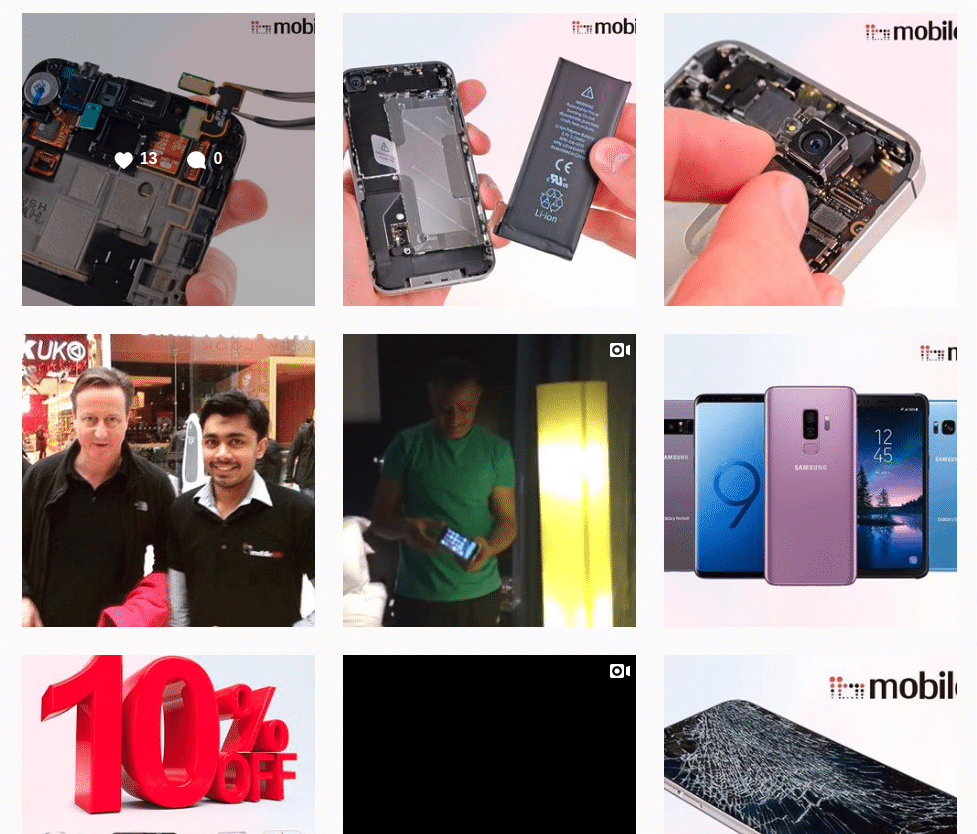 Promotion of services by revealing the most common problems and offering a solution with the reference to the official website;
Promotion of brand by showing a close connection to a celebrity and increasing the company status;
Demonstration of product usage in short videos to increase trust;
Announcing news and giveaways.
Wise Insta features to borrow from Factory Fashion, a fashion clothes' brand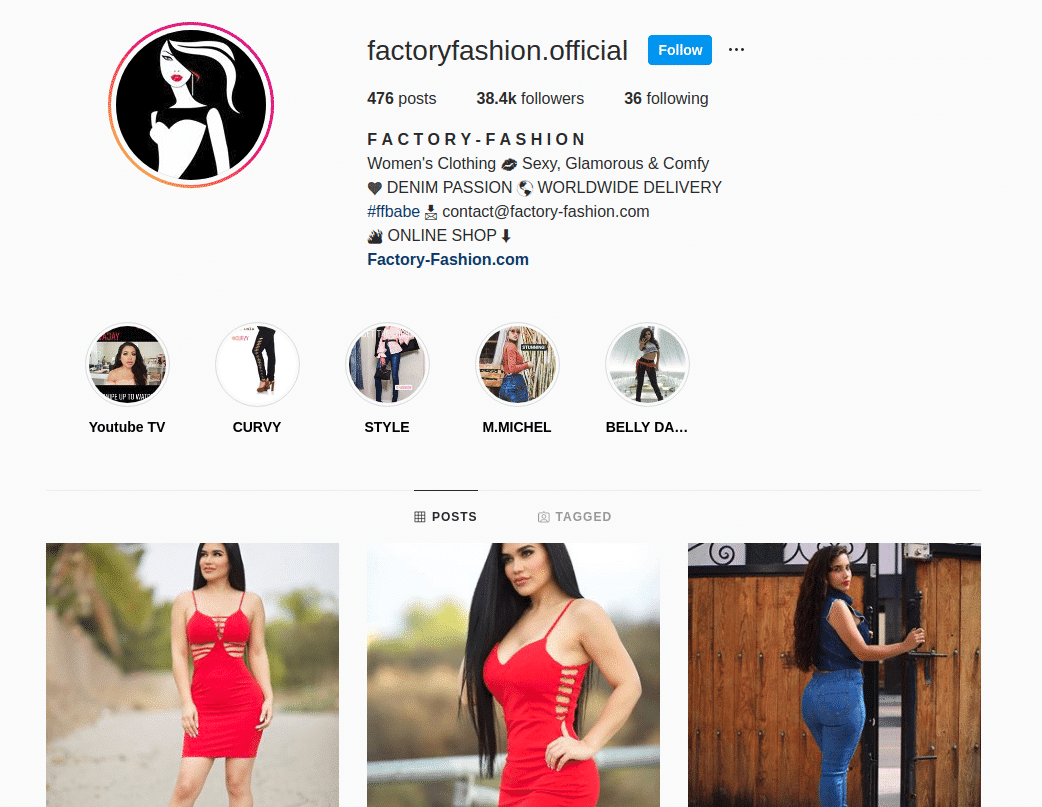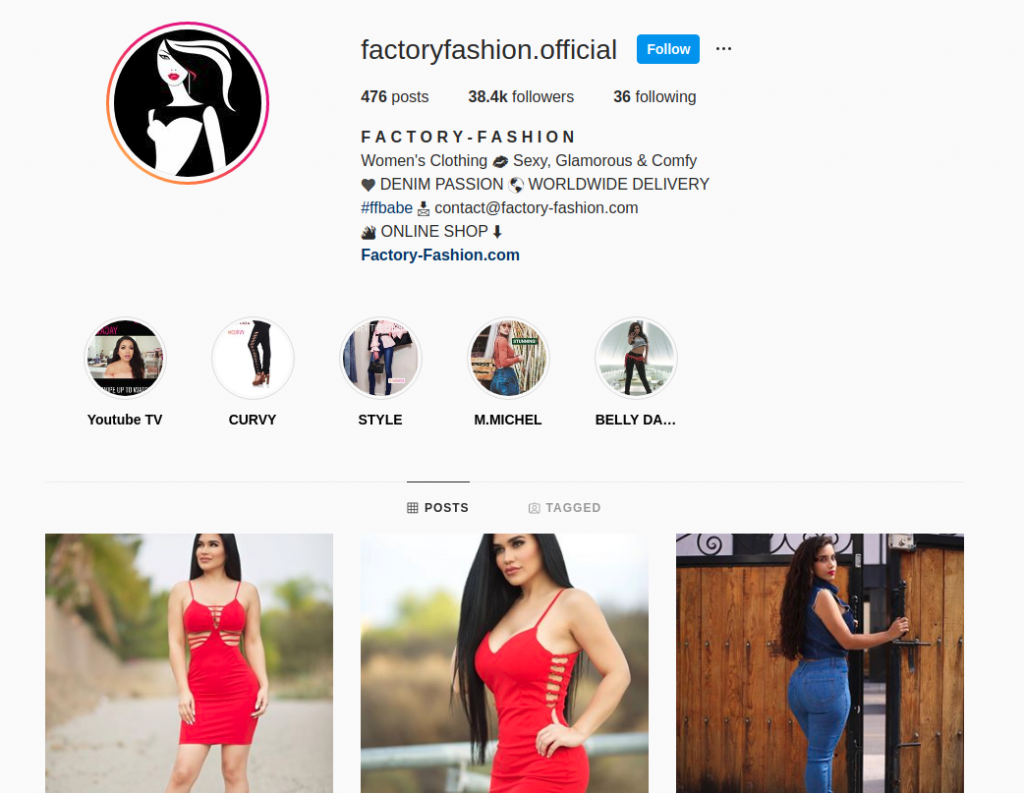 Product showcasing by both pictures and stories;
Crosslinks to the website and youtube channel;
Announcing news and giveaways.
Wise Insta features to borrow from GoBros Outdoors, a socks' brand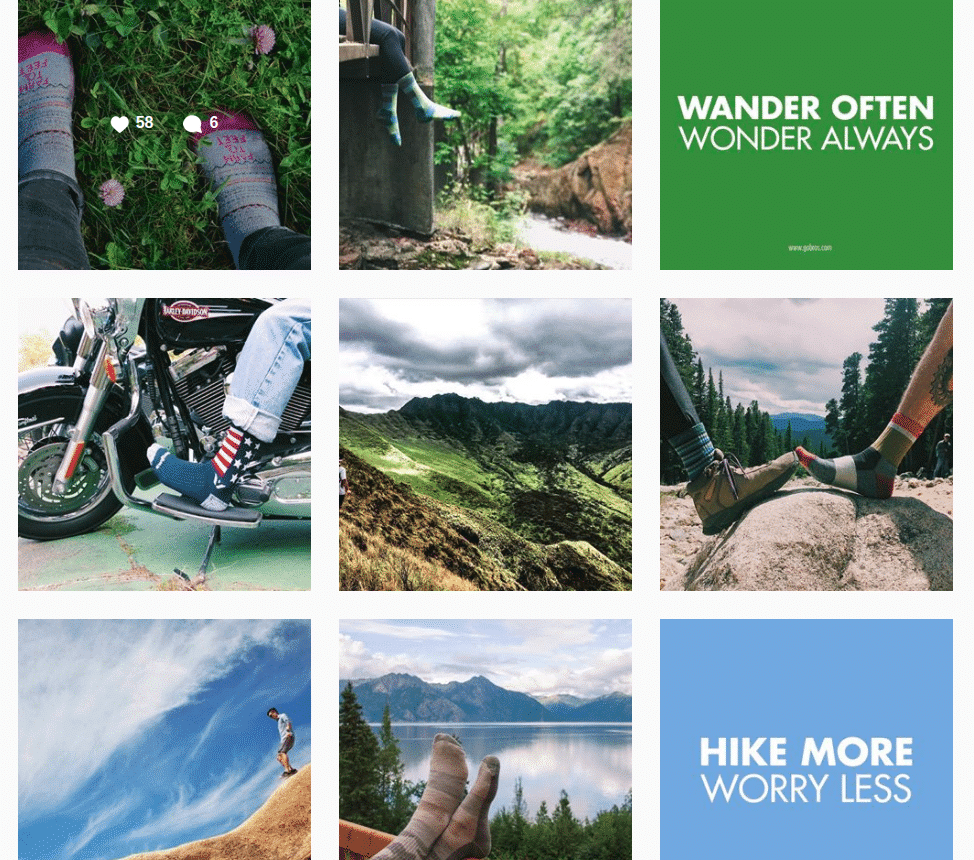 UGC, engaging users with the brand unique hashtags to gather insights and promote;
Product showcasing;
Usage of quotes in photos to connect the brand image with the lifestyle and build a community of like-minded fellows, brand personification and standing out as socks for hikers;
Usage of the link in bio.
Wise Insta features to borrow from Jadeyoga Europe, a yoga accessories' brand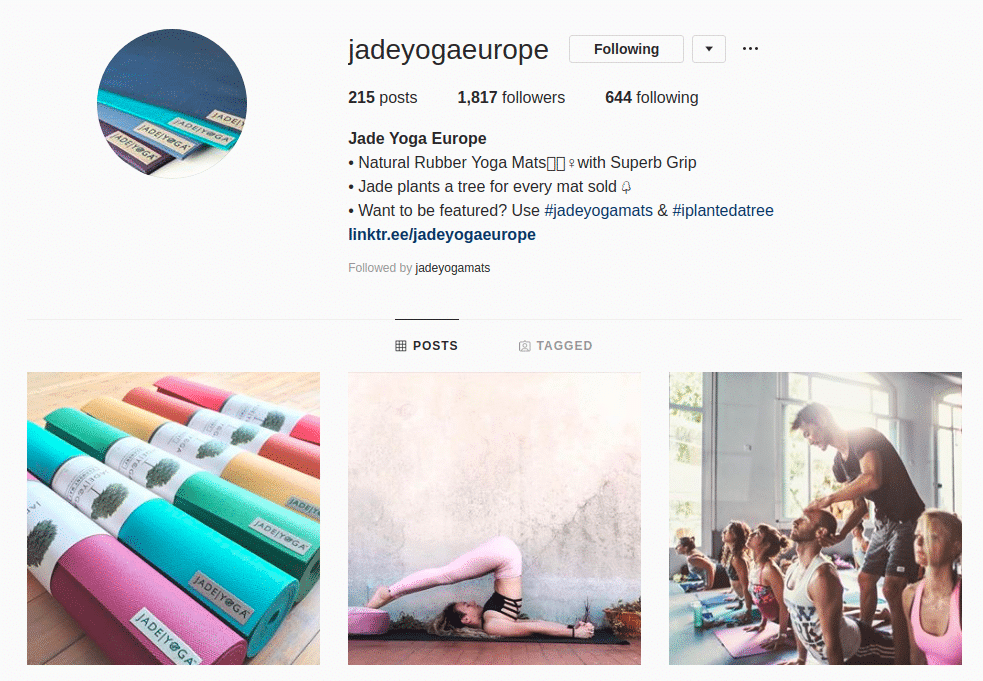 Product showcasing by both pictures and stories;
Announcing news and giveaways;
Promotion through social events and charity;
Usage of hashtags in the comments' section to save space and focus on the photo description with a meaningful message to followers;
An excellent case to promote the brand through affiliates, ambassadors (yogis) using @ signs both in the photo and in the description sections;
The link in bio to connect with their shopping platform on CS-Cart.
Closing
As you can see, Instagram is of great help almost for any industry: fashion and clothing, apparel and special equipment, to promote both products and services. But, as the examples show, involving Instagram into your marketing campaign requires preliminary consideration of all details to build a seamless user experience. As we are talking more about visual UX, make sure your website is ready to respond to your visitors' look-and-feel expectations. We can advise using fine quality images, preferably, sharing the same unique design to create a common picture of your brand in your customers' minds. Think about Design Audit Service to get your website examined for key elements and logo integral look-and-feel as seen from the desktop, mobile, tablet or a laptop and recommendations on how to improve it. Elaborating a Unique Selling Design for your CS-Cart or Multi-Vendor-based website will stand you apart, personify your e-store and turn your brand into a life partner to your clients. Once your eCommerce website is ready for the show, the last touch on the masterpiece should be adding the Instagram feed to your website. Your website visitors will see your latest posts in the Insta Widget at the bottom of the page and would be interested in getting to know the social side of the brand. More channels you engage, faster your million will reach your pocket!