In this article, we have collected the most popular features that our customers ask for when customizing their jewelry online stores and marketplaces.
Top 10 Jewelry Ecommerce Store and Marketplaces as of 2023
For the U.S. this list is composed by:
brilliantearth.com
kay.com
zales.com
jtv.com
jomashop.com
Jewelry eCommerce specifics
According to Statista, the most revenue of the jewelry market was generated by Asia Pacific, specifically, by China. Other countries leading in jewelry sales include the Middle East and Africa, Japan, India, France, and Italy.
According to National Jeweler, people buy gems and luxury items for one of the reasons: to get exactly what they want, to celebrate a milestone, to commemorate a special occasion (a trip, for example).
Forbes states that the jewelry market audience is mostly women (+70%). They usually buy precious items for themselves.
Must-Have Feature for a Jewelry Ecommerce Site
Responsive theme and geolocation
In any eCommerce there are basic components: a home page with promos and some promotions, a catalog with filters, cards with photos and descriptions of products, a shopping cart, payment and delivery. And if everything is almost the same, then why do users squeal with delight from one online store and order in it again and again, and from the other one they are sick of their hearts?!
The whole question is in the UI, the user interface – if it is thought out to the smallest detail, then it is convenient to use the site. And the first thing that even Google's algorithms are now paying attention to is whether there is a mobile version of the site. In the field of jewelry, it seems that everyone understands that people now do not let smartphones out of their hands. Thus, mobile responsiveness is the key in jewelry eCommerce.
Ability to select a city that determines the availability of products and the possibility of delivery or pickup in that place is one more feature your jewelry online store or marketplace offers.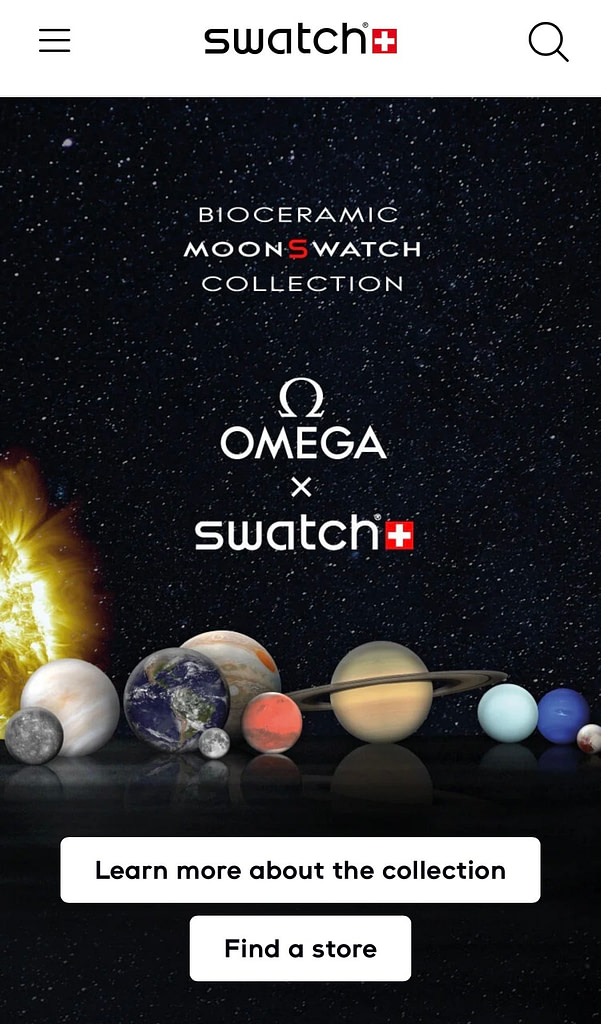 Content
Of the other basic parameters, we paid attention to the possibility of creating a personal account on the site and the presence of a blog with interesting and useful content.
Promotions
A classic of homepages in eCommerce: promotional sliders. If you are focused immediately on buyers and vendors, then you can put a banner with the options: "shop now" (or "sell now").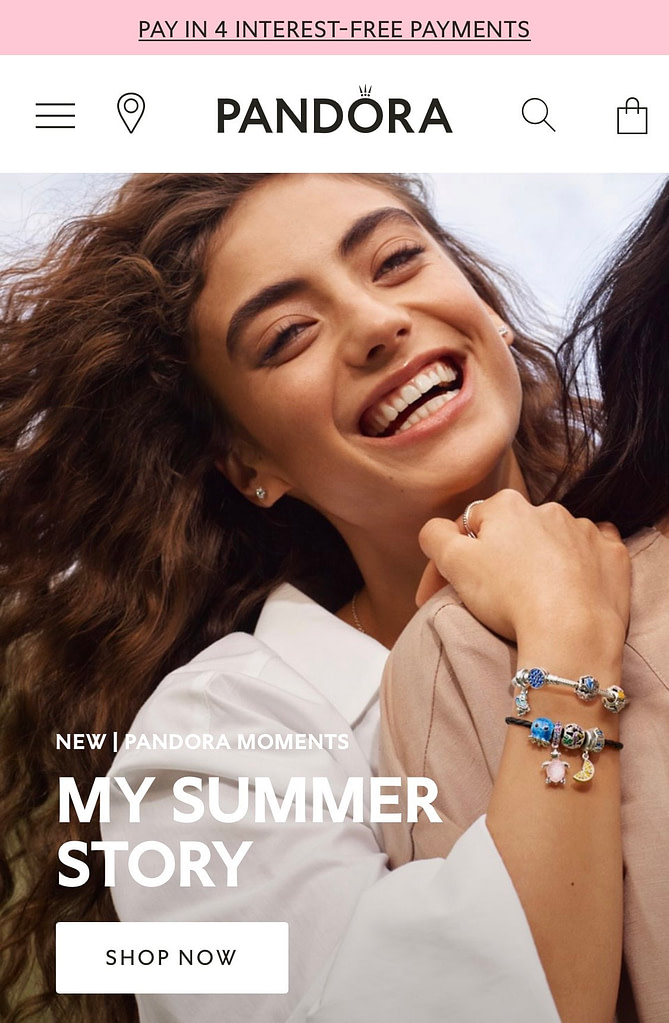 Special offers and deals
Another frequent component of the main page in e-commerce is special offers and promotions. Some stores use psychological tricks: contagious information about what they have already bought (with the expectation of "I want it too!"), a timer counting down the time until the end of the promotion in bright color.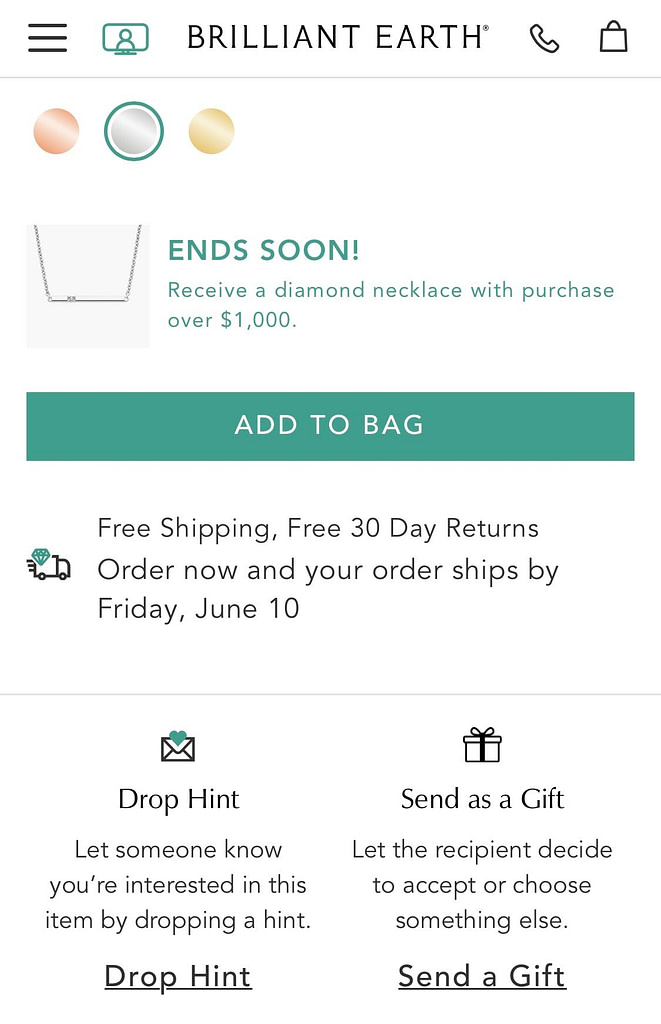 For vendors, after selecting a call-to-action (sell) on the main page, you can place a promotional slider where the company can post news or focus on some product in close-up. If special offers are more important to your target audience than new items, place them in separate sections of the Sale menu. And instead of discounts on product pages, indicate two prices (the price with and without a discount).
Catalog sections
Catalog sections in the menu are one of the basic ways to navigate the site: it is the menu that determines where the users will stay on the site, and whether it will be easy for them to find what they want.
You can put all the basic categories in the main menu bar: rings, earrings, pendants, chains, bracelets, watches and more.
Within each category, add additional parameters: type, sample, for whom, size, etc. And for greater convenience of the search, provide a quick selection of jewelry according to the criteria:
Product type: ring, earrings, pendant…
Metal
Color
Clasp
The drop-down menu may include product pictures and brand logos.
You can group menu sections not by product type (rings, earrings, etc), but by topic: promotions, engagement or wedding, jewelry, watches, gifts, collections and brands. This division is more appropriate when the user is looking for something specific (wedding rings, watches, or a specific brand). You can leave a large "jewelry" section with all products, where the user can select a category, brand or collection from a drop-down menu.
Filters
Quite often online store catalogs offer a giant filter that takes into account very fine settings. In the case of jewelry, these can be shades of gold, for whom the product is chosen, the type of product, composition, and so on.
The problem with the huge filter can be solved by making scrollbars in each filter section – so it takes up less space. The filter can be fixed while scrolling the entire page. Your concern with the abundance of brands can be solved with a pop-up and an alphabetical index of all brands.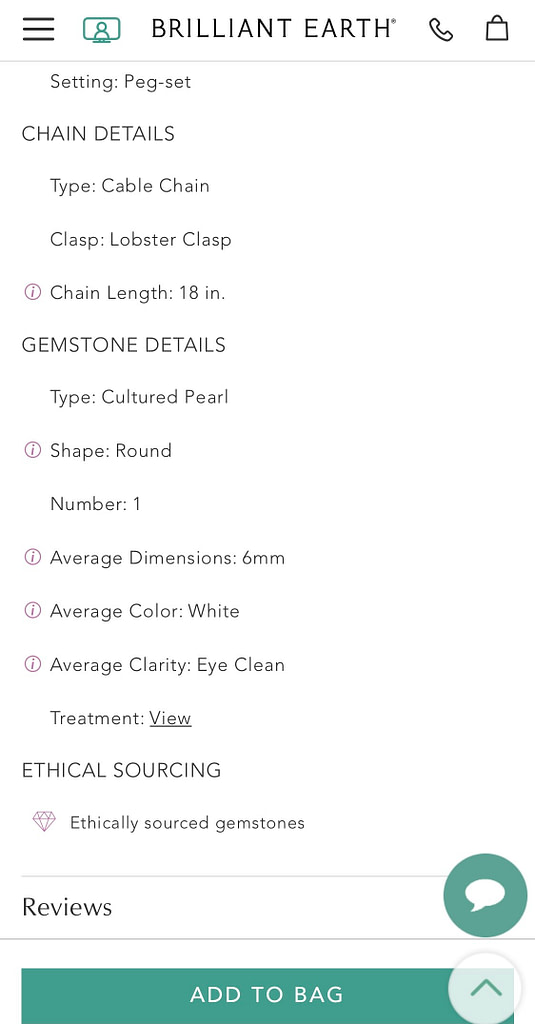 Product page
Product pages in an ideal catalog have all the necessary functions: they show whether it is a new product or a product at a discount, whether the product is in stock, what price, what characteristics; include hearts/stars for adding to favorites and of course quick buttons like "add to cart" or "more info".
You can clearly highlight "in stock" and the promotional price to encourage a purchase.
Instead of static photos in product cards, use a gallery. The product page can show available sizes on hover.
Product detail page
In most cases, on the detail page of a particular product, you can find a gallery with photos, similar products or products from the "you may like" category, the "you have already viewed" block and the "add to cart" button.
In addition to this set, you can add an illustration of a certificate with a detailed description of all markings, benefits and text about the characteristics of the metal. Add "select available sizes", payment methods and key product parameters (stone characteristics, metal, manufacturer).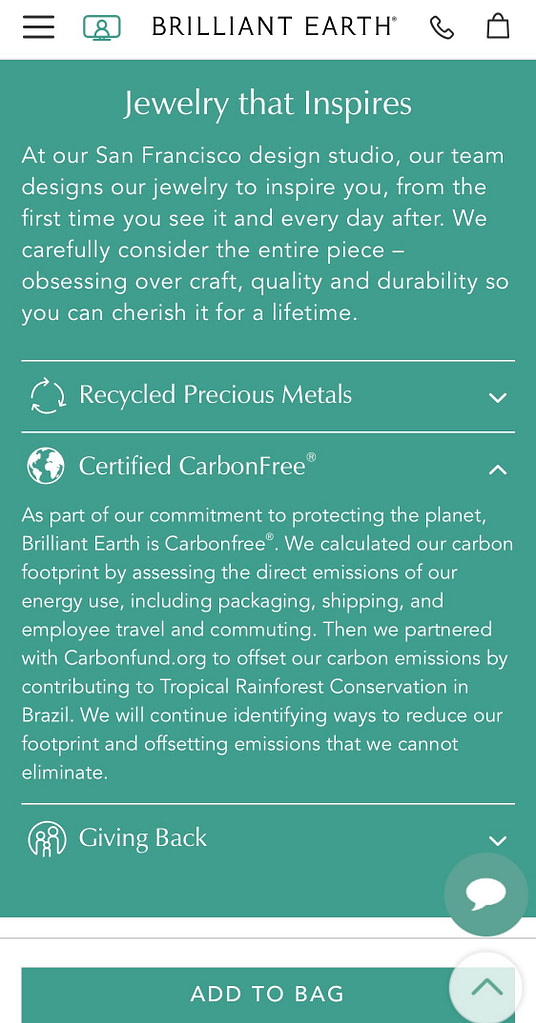 For expensive jewelry, the conclusion of a gemologist is especially important.
Offer a product bundle ("Compatible with" tab) for products of the same series or the same material and immediately show the price for the set.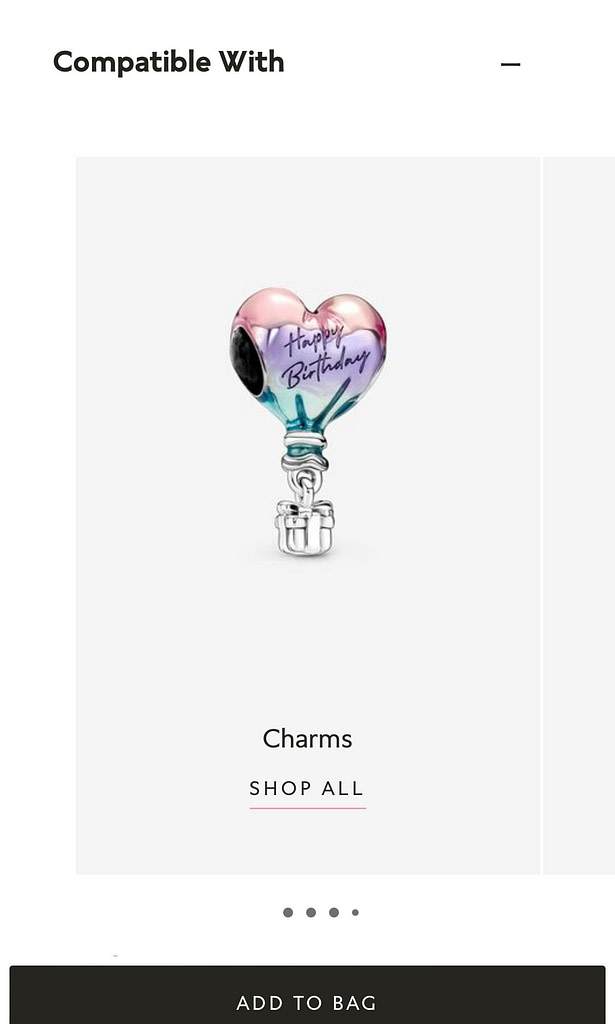 You can also add a 3D model that can be rotated in different directions. This is possible with integration of a special API.
Allow virtual try-on for a selected piece of art.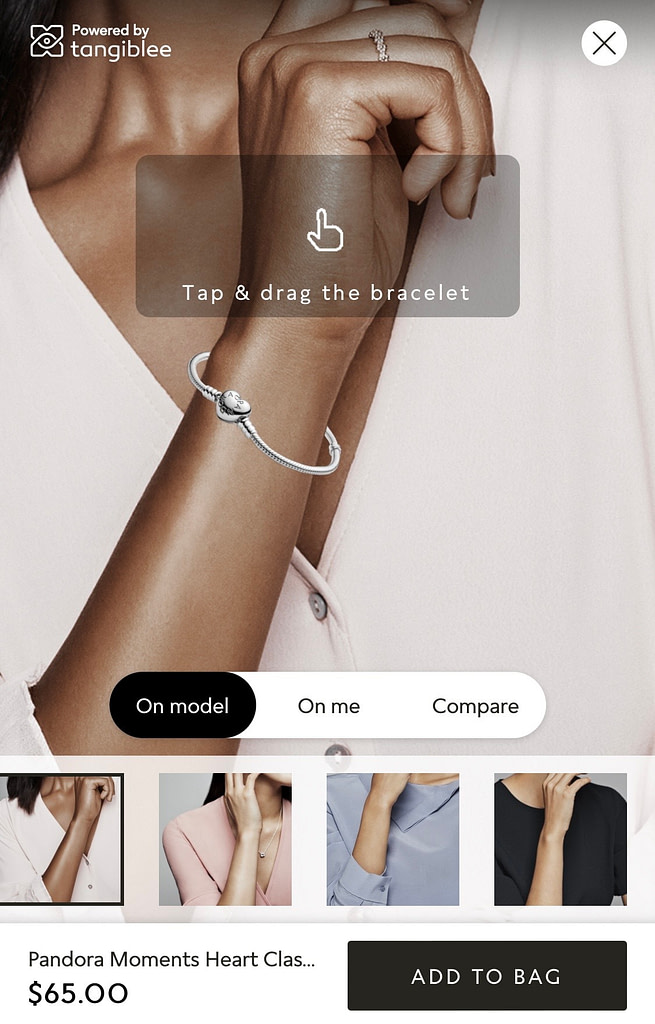 Ability to book an appointment to virtually visit your store.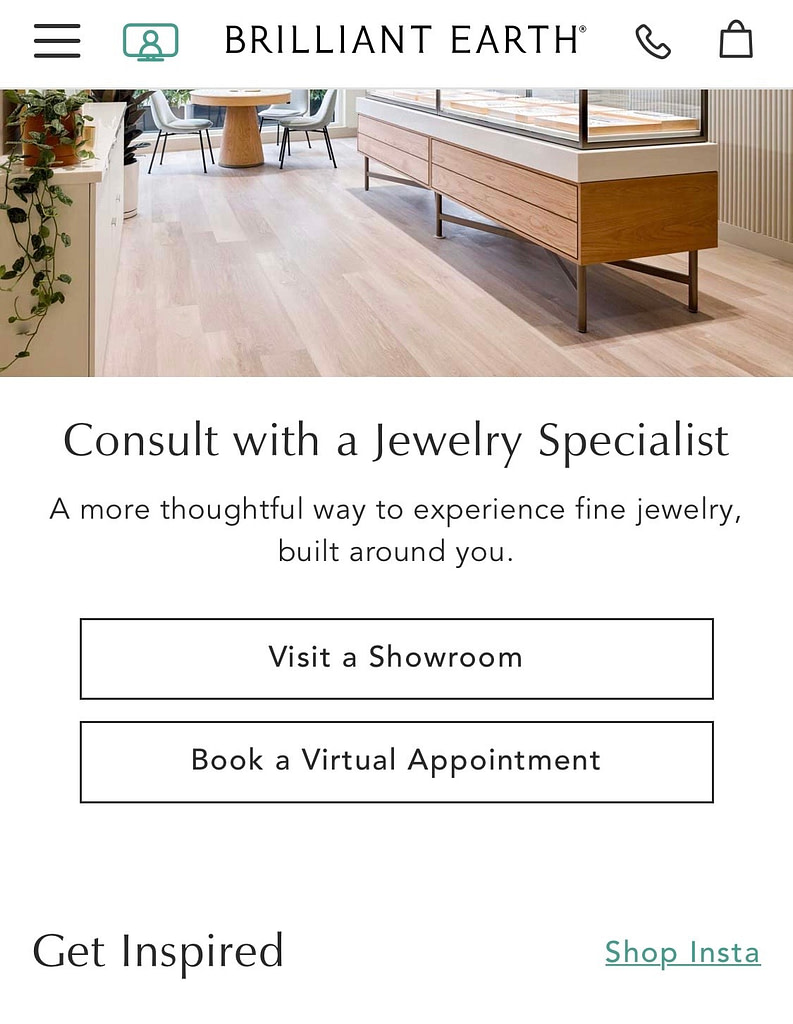 Another trick is to hint that you want this product as a gift.
You can also highlight the ability to share the page on social accounts putting it in a prominent place.
Cart
We have identified the following must-have characteristics of a jewelry store basket:
Caching items in the shopping cart
Place of receipt of the order (the user must select the location once, so that the next location is taken into account in the cart)
Adjustment of the number of products
These characteristics add more convenience to the user on the way to purchase the product.
Payment and Delivery
There are always many difficulties with payment and delivery – it is important to take into account all delivery options, the user's city and place an order correctly.
Add instructions to the checkout so that the user can select a transport company, indicate the desired city and leave a note, as well as payment methods. Sometimes customers want to learn more information about shipping and payment, but not always there is such a page. Make sure that your online jewelry store provides all the information of interest to customers.
In total, the payment and delivery page should include:
the ability to select a city on the order page
choice of delivery options
the ability to place an order without a personal account
separate page with delivery conditions
Conclusion
All online stores and marketplaces are very individual. The main thing is to highlight your specifics in order to stand out from competitors and attract the target audience. We have identified only the main characteristics that significantly affect the process of choosing and making a purchase. Our team has completed a big deal of projects for jewelry stores with different specifics. We know exactly how to make your jewelry store sell.
You may be interested in reading: