If you ever think about moving your business online, year 2020 proved this wish is worth it. Businesses without their online presence experienced a tough period as many buyers stayed home practicing social distancing. More people became avid online shoppers.
Starting an online business in 2020: stats behind
According to a March 2020 consumer survey, 5 percent of consumers aged 65 years and above in the U.S. have purchased a product online for the first time due to pandemic. The latest statistics on the COVID-19 impact shows that online commerce grew for the past 10 months of 2020. The eCommerce estimate for the second quarter of 2020 increased 44.4 percent from the second quarter of 2019. The total retail sales decreased by 3.4 percent for the same period. Statista says that eCommerce growth will accelerate even further. Amazon has already seen over 5.2 billion unique visitors in June 2020. In terms of the gross merchandise value (GMV), it ranks third after Taobao and Tmall.
The mCommerce became especially popular thanks to Asia. South Korea generated up to 65 percent of the total online transaction volume via mobile traffic.
In June 2020, global retail eCommerce traffic got a record 22 billion monthly visits. The most popular shopping categories in 2020 were such every-day items as groceries, clothing, and retail tech items. Let's look at the key stats more granularly!
Key eCommerce stats for 2020: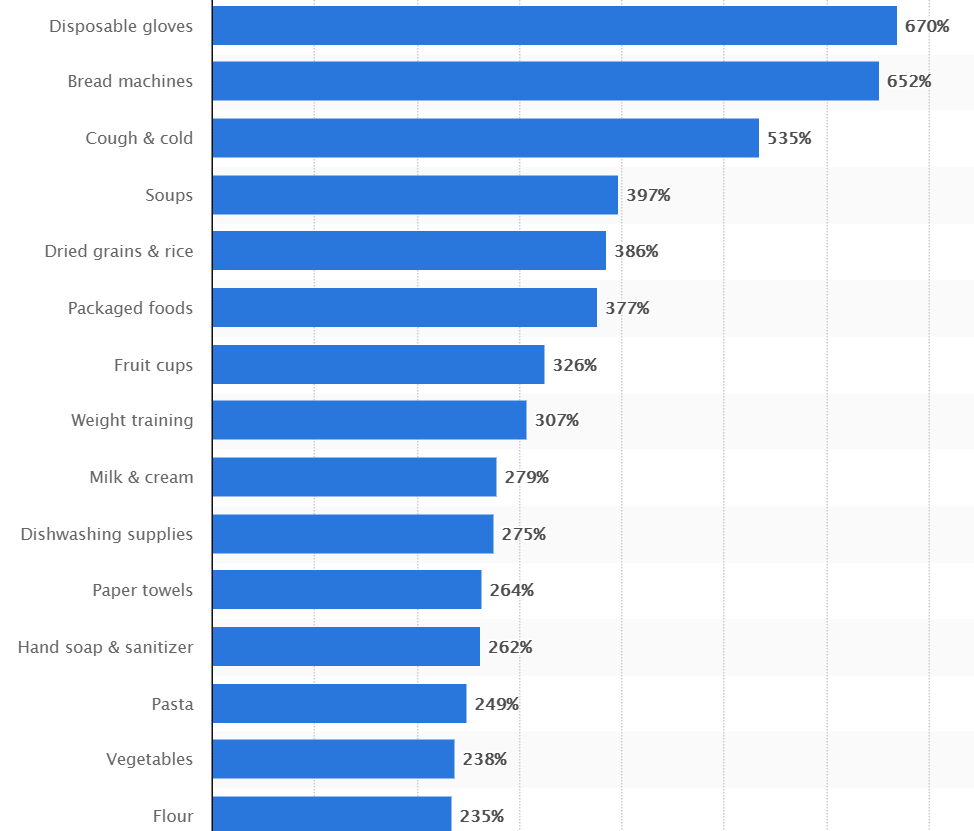 Global online shopper conversion rate – 2.58%
Share of global digital purchases – 47%
Average eCommerce spending per shopper – 2.97 USD
Share of mobile traffic – 51.3%
Country with the highest mCommerce – Indonesia
Most popular online retail payment in the U.S. – Credit / debit card
Average monthly visits to global retail eCommerce websites – 21.96bn
Fastest-growing eCommerce category in the U.S. due to COVID-19 – Disposable gloves
Other shopping categories that have seen growth during COVID-19:
Bread Machines
Cough and cold
Soups
Dried grains and rice
Packaged Foods
Fruit Cups
Weight Training
Milk and cream
Dishwashing Supplies
Paper Towels
Hand Soap and sanitizer
Pasta
Vegetables
Flour
Facial Tissues
Allergy Medicine
Women's Health
Cereals
Power Generators
COVID-19's impact on online traffic of selected industries as of September, 2020: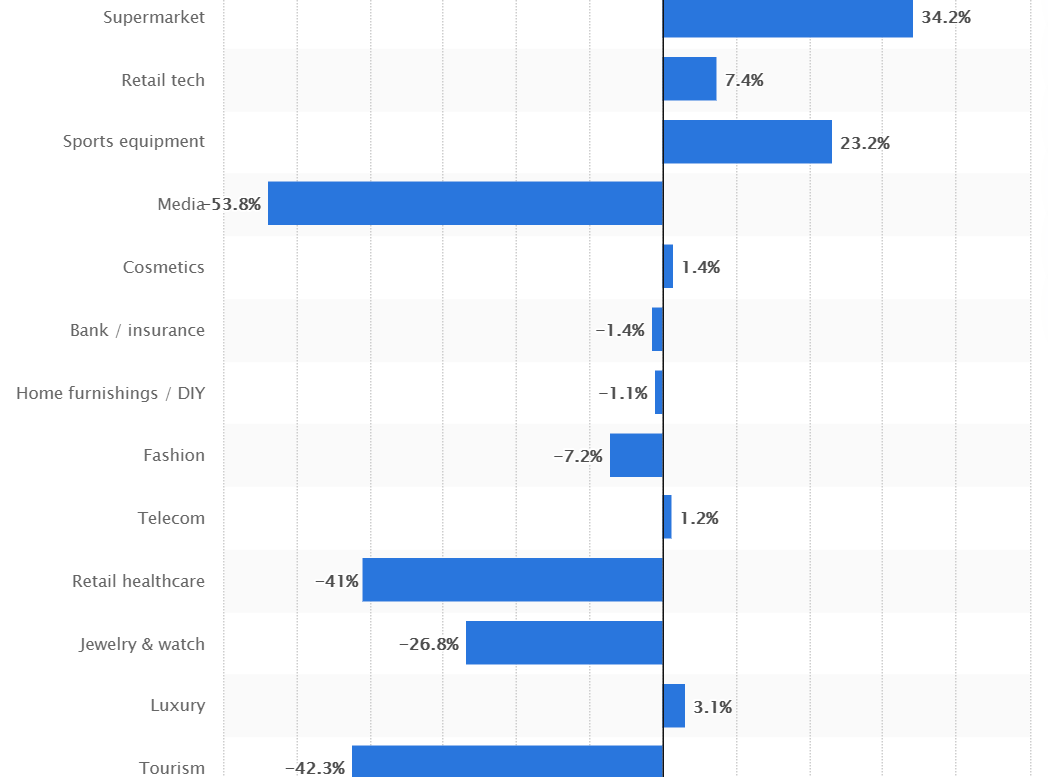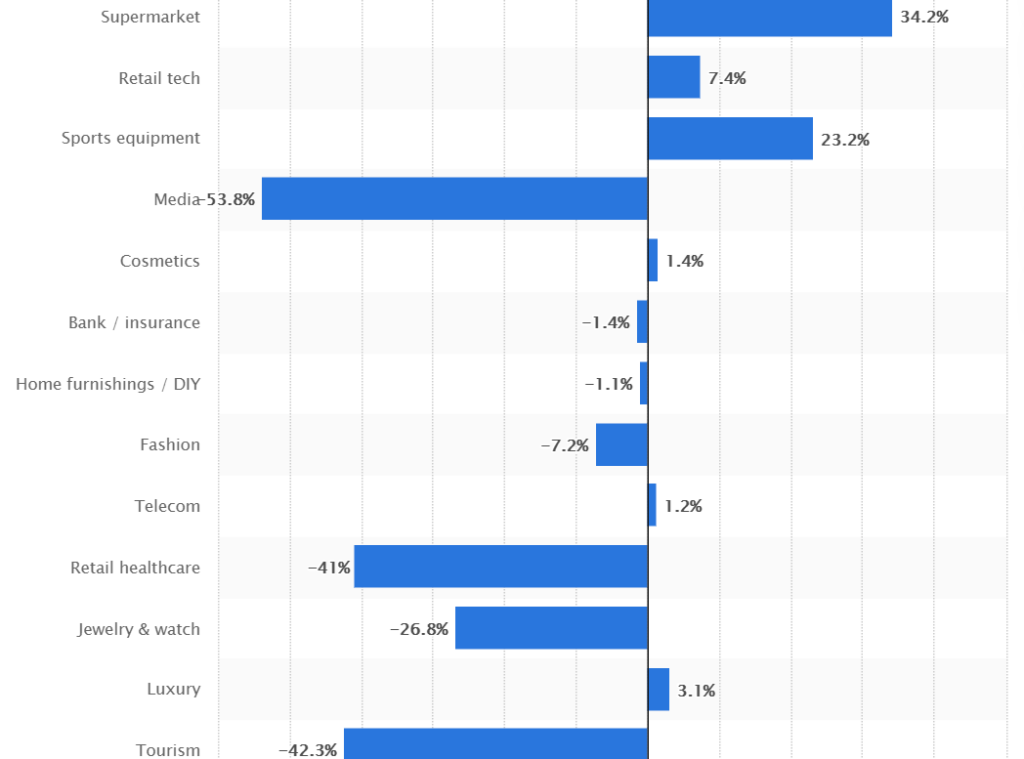 Positive impact:
Supermarket
Retail tech
Sports equipment
Telecom
Luxury
Cosmetics
Negative impact:
Media
Tourism
Retail healthcare
Jewelry and watch
Fashion
Needless to say that it's still not late to jump into creating your own online store taking into account the above trends. Crisis is the perfect time to discover new niche opportunities, or expand to a new target audience with online shoppers.
"If you do have a unique benefit to offer then create a memorable sentence to show the market who you are and what you stand for. Find your differentiators then make a promise to solve that problem your customers want to fix. Once you find your hook then start using it in all your communications, your advertising, tag line, messaging, web site, social media, etc. Find your niche and own it".

Paige, Founder & CEO of Mavens and Moguls
It is quite simple to launch an online store or marketplace with the current digital capabilities! We've broken down the process of going online to 7 simple steps
A checklist of creating an online business
Perform an eCommerce SWOT analysis.
Discover online business opportunities and gaps.
Choose your niche in the online market.
Know your market and competitors in the online area.
Explore social media to find out potential buyers' preferences, average age, and location.
Describe your Buyer Personas.
Gather data for your store. A great starting point would be connecting Google Analytics once you have your online store in place.
Communicate with your audience and apply this information that you get from polls, calls, and messages to craft your unique selling proposition.
Define your business model.
Build a marketing plan that answers the following questions:
How to drive traffic to your online shop?
How much to pay to acquire a customer?
Do you have a story behind your business?
Is your team ready to follow your marketing strategy?
This involves purchasing a platform, add-ons, design templates, and doing some initial customization.
eCommerce hosting helps the eCommerce newbies focus on business, and delegate all the safety and security issues to their hosts. What's interesting, hosting is scaling as your business grows. You can even save with the annual billing.
Define your brand identity.
Create a memorable logo.
Choose a ready-made template that fits your business.
Shoot images of your products.
Write an informative product description.
6. Set up payments, shipping and inventory for your online shop
Select a robust payment gateway prior to opening an online store.
Select an appropriate shipping carrier considering cost and efficiency for your business.
Choose an inventory management system to never run out of products.
7. Start growing your online business
Once you create a marketing plan, you should think about how you'll grow.
What you should consider:
Goals: Where will your business be in 6 months? A year? 5 years?
Strategy: How can you reach these goals?
Tactics: What tasks should you include in the strategy?
Marketing channels to grow traffic:
Social Media Marketing;
Blog & SEO;
Paid ads;
Email marketing
Influencers.
Why is it critical when going online with an offline business?
You have an additional channel to sell more. Small businesses can have buyers from all over the world, without being tied up to the local niche community.
In tough times, online business can help you to stay afloat.
Once you finetune shipping directly to homes, your customers could shop online without compromising their well-being.
---
Want more eCommerce tips?