In our previous blog post, Coffee Market Insights: Key Statistics, Industry Benchmarks And ECommerce Trends we examined coffee sales trends and statistics. Well, that was the theory. Now, we revert to the practice of online coffee selling. Let's see the best eCommerce website examples to sell coffee online.
Trade Coffee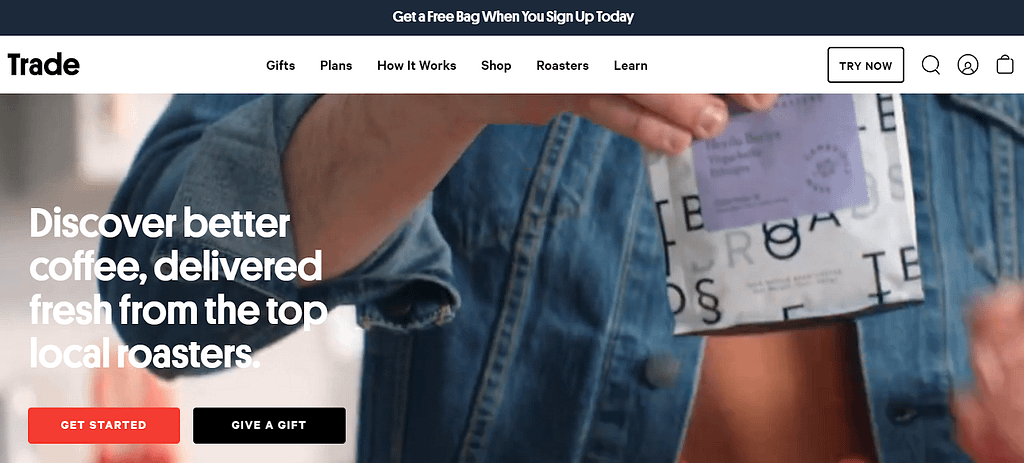 Trade Coffee is an online platform that connects coffee lovers with specialty coffee roasters from around the United States. Here are some of the key features of the Trade Coffee website:
Coffee Discovery: The website offers a wide variety of coffee options from different roasters, allowing users to explore and discover new flavors and profiles. Users can filter coffee options based on their preferred roast level, flavor notes, and brewing method.
Personalized Recommendations: Trade Coffee provides personalized recommendations based on the user's taste preferences. Users can take a quiz to determine their flavor profile, and the website suggests coffee options that align with their preferences.
Subscription Service: Users can subscribe to receive regular shipments of coffee directly to their doorstep. Trade Coffee offers various subscription plans, including personalized plans based on the user's taste preferences. Subscribers can choose the frequency of their deliveries and easily manage their subscription through the website.
Roaster Profiles: Each coffee available on Trade Coffee comes from a specific roaster. The website provides detailed information about each roaster, including their story, sourcing practices, and brewing recommendations. Users can learn more about the roasters and their coffee-making processes.
Reviews and Ratings: Users can read reviews and ratings from other coffee enthusiasts to get insights into the quality and taste of different coffees. This feature helps users make informed decisions when selecting their coffee.
Brewing Guides: Trade Coffee offers brewing guides for various brewing methods, such as pour-over, French press, espresso, and more. These guides provide step-by-step instructions to help users brew their coffee to perfection.
Coffee Education: The website includes informative articles and resources about coffee, including topics like coffee origins, brewing techniques, and coffee-related news. Users can expand their knowledge and deepen their appreciation for specialty coffee.
Gift Options: Trade Coffee offers gift subscriptions and gift cards, making it easy for users to share their love for coffee with others. Users can give a subscription as a gift.
Trade Coffee's website features aim to provide a seamless and personalized coffee-buying experience while promoting the specialty coffee industry and supporting local roasters.
Read more
How to Create the Perfect Product Page for Your Online Store?
Blue Bottle Coffee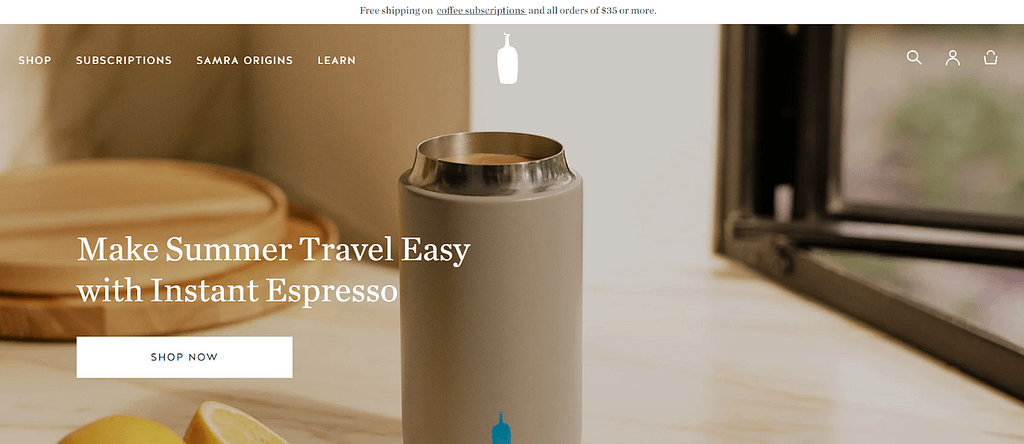 Blue Bottle Coffee is a specialty coffee roaster and retailer known for its high-quality beans and commitment to sustainability. The Blue Bottle Coffee's website features include:
Online Store: The website allows customers to browse and purchase a variety of coffee beans, brewing equipment, and merchandise.
Subscription Service: Blue Bottle offers a subscription service where customers can receive regular deliveries of their favorite coffee beans.
Brewing Guides: The website provides detailed brewing guides and tutorials to help customers make the perfect cup of coffee at home.
Cafe Locator: Users can find Blue Bottle Coffee cafes near their location using the website's cafe locator feature.
Blog and News: Blue Bottle Coffee regularly updates its blog with articles, news, and stories related to coffee, sustainability, and the company's initiatives.
Peet's Coffee
Peet's Coffee website features various sections and functionalities to provide a comprehensive online experience for its customers. Some notable features include:
Online Ordering: Customers can easily browse through the menu, customize their drinks, and place orders directly from the website. This feature allows for convenient pickup or delivery options.
Store Locator: Peet's Coffee website includes a store locator feature that helps users find the nearest Peet's Coffee locations based on their current location or a specific address.
Subscription Service: Peet's offers a subscription service where customers can sign up to receive regular deliveries of their favorite coffees or teas. The website allows users to manage their subscriptions, select products, and customize delivery schedules.
Product Information: The website provides detailed information about Peet's Coffee products, including descriptions, origins, brewing methods, and flavor profiles. This helps customers make informed decisions while exploring the range of offerings.
Gift Cards: Peet's Coffee website allows users to purchase and send digital or physical gift cards to friends and family. The recipient can then redeem the gift card for purchases at any Peet's Coffee location.
Blog and News: Peet's Coffee website features a blog section where they share articles, stories, and updates related to coffee, sustainability, and other relevant topics. This helps engage customers and provide additional value beyond just the products.
Read more
Stumptown Coffee Roasters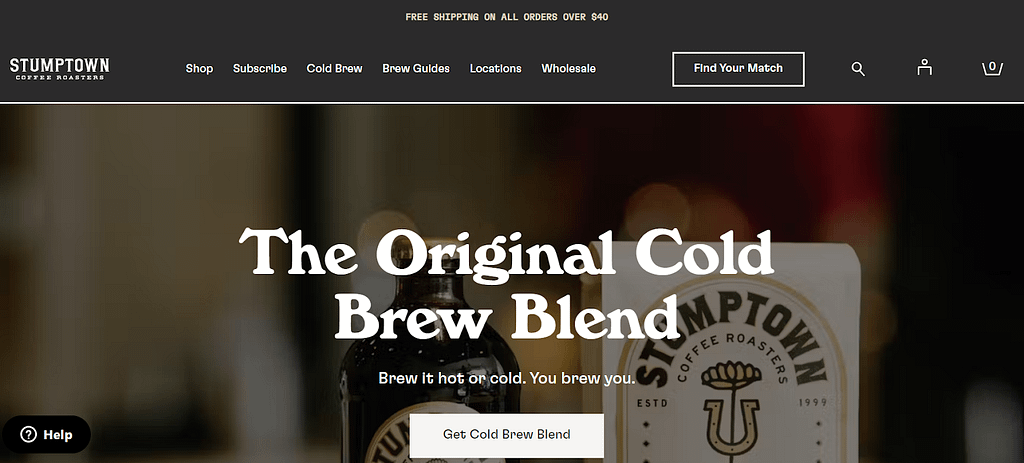 Online Shop: Stumptown Coffee Roasters' website features an online shop where customers can browse and purchase their wide selection of coffee beans, including single-origin and blends. They also offer a variety of brewing equipment and merchandise.
Coffee Subscriptions: Customers can sign up for a coffee subscription service on the website, allowing them to receive their favorite Stumptown coffee delivered to their doorstep regularly. Subscriptions can be customized based on preferred coffee type, quantity, and frequency.
Coffee Education: Stumptown Coffee Roasters is known for its commitment to coffee education, and their website features a section dedicated to educating customers about coffee. This includes articles and videos about different brewing methods, coffee origins, and tasting notes.
Brew Guides: The website provides detailed brew guides for various brewing methods, such as pour-over, French press, and espresso. These guides offer step-by-step instructions and tips for achieving the best flavor from Stumptown coffee.
Coffee Locator: Stumptown Coffee Roasters has multiple cafes and retail partners across the United States, and their website features a coffee locator tool to help customers find the nearest Stumptown location or retail partner where they can enjoy their coffee.
Wholesale and Partnerships: For businesses interested in partnering with Stumptown Coffee Roasters, the website provides information about wholesale opportunities and the process for becoming a retail partner.
Events and Workshops: Stumptown occasionally hosts events and workshops related to coffee, and their website features a calendar of upcoming events. This includes cupping sessions, brewing classes, and other coffee-related activities.
Sustainability and Direct Trade: Stumptown Coffee Roasters is committed to sustainability and ethical sourcing practices. Their website provides information about their direct trade relationships with coffee farmers and their efforts to support sustainable farming practices.
Blog and News: Stumptown's website runs a blog where they share news, updates, and stories related to coffee. This includes information about new coffee releases, collaborations, and community initiatives.
Contact and Support: The website provides contact information and a support page where customers can reach out with any questions or concerns. They also have a FAQ section that addresses common inquiries.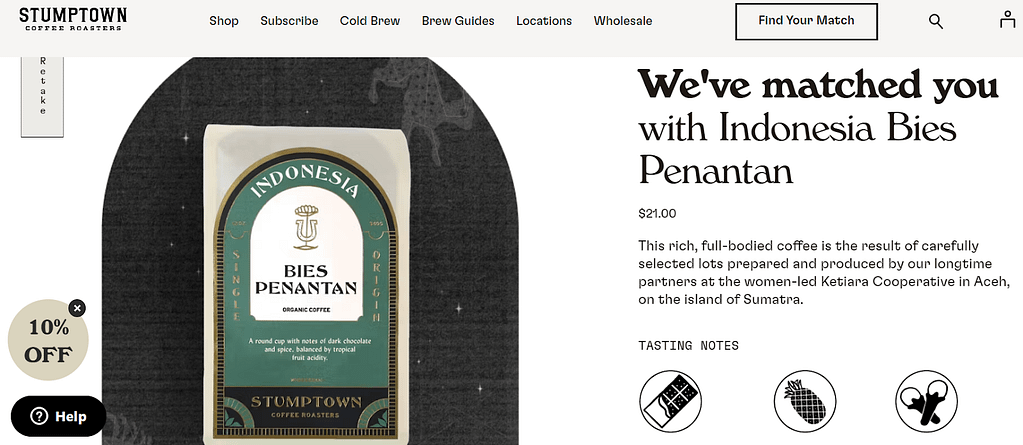 Find Your Match game where the user is offered to answer questions and have their perfect coffee.
Counter Culture Coffee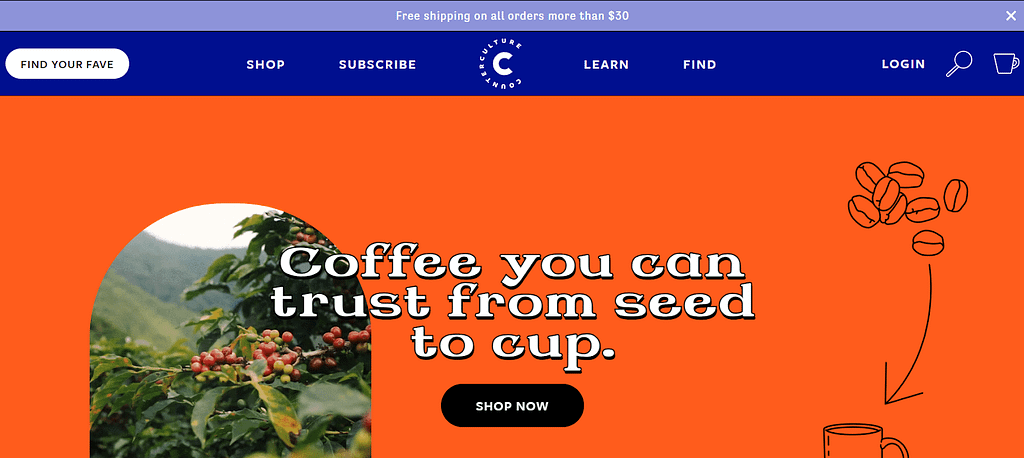 Counter Culture Coffee is a specialty coffee roaster based in Durham, North Carolina. Their website features various sections that provide information about their coffee, education, sustainability efforts, and more.
Coffee Selection: The website allows users to explore their wide range of coffee offerings from different origins. Each coffee has its own dedicated page with detailed information about the flavor profile, processing method, and brewing recommendations.
Education and Training: Counter Culture Coffee is well-known for its emphasis on education. Their website offers comprehensive resources for coffee enthusiasts and professionals, including brewing guides, tasting notes, and online courses.
Sustainability Initiatives: The company is committed to sustainable practices and transparency. Their website highlights their sustainable sourcing efforts, environmental initiatives, and social responsibility projects.
Wholesale and Retail: Counter Culture Coffee caters to both wholesale and retail customers. Their website provides information about their wholesale program, equipment sales, and a directory of cafes and retailers that serve their coffee.
Events and News: The website features a section dedicated to upcoming events, such as coffee tastings, workshops, and competitions. They also have a blog and news section to offer visitors the latest coffee industry analysis and news.
Simtech Development Case Study: Nespresso Professionals
Let's dive into the success story of our client – Nespresso Professional's Nordic Distributor Online Shop. We'll tell you how we developed their online store and helped fuse offline and online sales.
Project Goal
The global task was to start online sales from scratch in 3 countries: Sweden, Denmark and Finland. Besides, it was required to make sure that information about all online and offline orders (the distributor had a number of stores and boutiques) is consolidated and processed in one place. The new functionalities should be designed to improve the UX/UI and contribute to the website overall success with customers.
What we did
We divided the work on the project into tasks and solved them gradually.
While creating the website look-n-feel, we catered for different types of user devices. Finally, the developed design fits any screen from a small smartphone screen to a more elongated tablet display.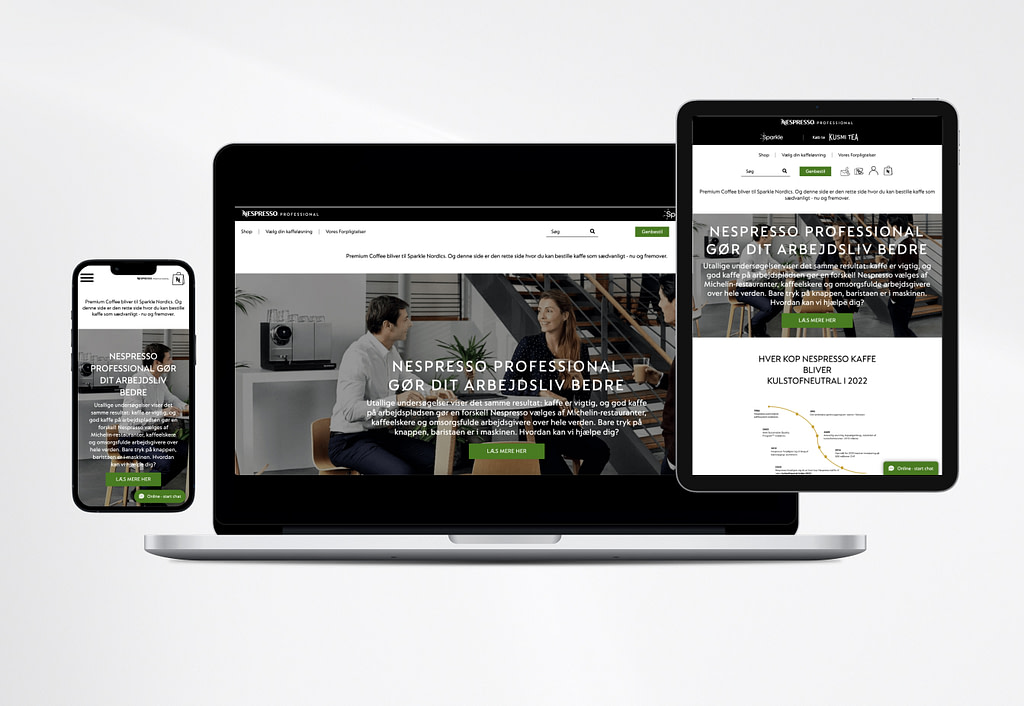 Desktop and responsive versions of the Nespresso online store
We also connected the website to an ERP Enterprise platform to collect and process data from the online store and from offline outlets in one place. Salesforce was found convenient in terms of monitoring business performance, and viewing order statistics, including those that were made offline. CS-Cart was responsible for eCommerce and entities (orders, contractors and customers) that have been registered online on the site. Together, both solutions give a complete picture of what is happening with the company's business. After the integration was done, it became possible to process orders through Salesforce, get contractors, and work with other data received from CS-Cart. Nespresso used a combination of CS-Cart and Salesforce to build their online storefronts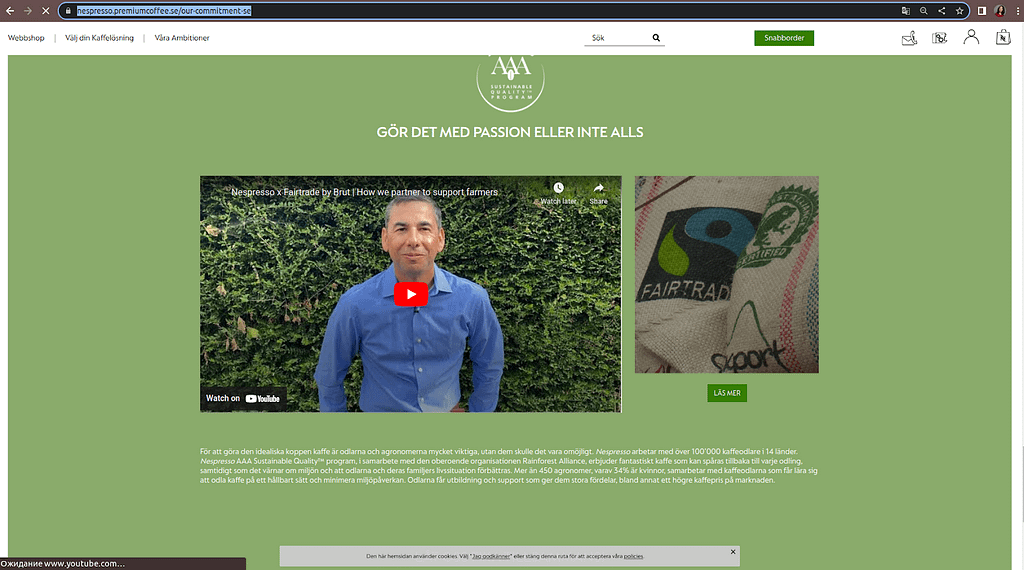 Video message function on Nespresso
We added a function of posting video content to the site and live chat between the customer and the seller to enhance the Video Search Engine Optimization (VSEO) on the website and increase customer engagement.
Results
After completion of work, the Nespresso managed to:
Launch an online store and expand the target audience in 3 countries
Create a single database of offline and online orders in Salesforce
Get in-depth analytics on customer orders and their needs
Adjust online coffee business development strategy for expanded growth
Read more
eCommerce Software Development: Platforms, Features and FAQs
Now, the website offers the following features to sell coffee products online:
Product Catalog: The Nespresso website features a comprehensive catalog of their coffee machines, coffee capsules, and accessories. Users can browse through different models, compare features, and select the products they are interested in purchasing.
Online Shopping: The website allows users to make purchases directly through the site. Customers can add items to their cart, choose their preferred payment method, and complete the checkout process.
Coffee Selection: Nespresso offers a wide range of coffee capsules with different flavors and intensities. The website provides detailed information about each coffee blend, including tasting notes, intensity level, and origin. Users can explore the coffee selection and choose their favorites.
Subscription Service: The company offers a subscription service called "Nespresso Club" where customers can sign up to receive regular deliveries of coffee capsules. The website allows users to manage their subscriptions, customize their orders, and set delivery preferences.
Machine Assistance: The website provides detailed information about each Nespresso machine, including specifications, user manuals, and troubleshooting guides. Users can find answers to common questions, troubleshoot issues, and learn how to maintain and clean their machines properly.
Recycling Program: The website is committed to sustainability and offers a recycling program for used coffee capsules. The website provides information on how to recycle capsules, including drop-off locations and recycling initiatives.
Coffee Recipes: Nespresso offers a variety of coffee recipes on their website, including classic espresso-based drinks, iced coffee recipes, and specialty beverages. Users can explore different recipes and learn how to create their favorite coffee drinks at home.
Customer Reviews: The website features customer reviews and ratings for products, allowing users to read feedback from other customers before making a purchase decision.
Store Locator: The coffee giant has physical stores and boutiques in various locations. The website includes a store locator feature that helps users find the nearest Nespresso store or boutique based on their location.
Customer Support: The Nespresso website provides various customer support options, including a live chat feature, email support, and a toll-free customer service hotline. Users can reach out to Nespresso for assistance, inquiries, or feedback.
How to sell coffee online?
Now, we're ready to start your coffee business. With these examples in mind, the rest is left for you to are step-by-step guidelines on launching your website. Well, here are your basic steps:
Build an appealing website: Create an engaging and user-friendly website that showcases your coffee products, provides detailed descriptions, and includes high-quality images. Ensure that the website is responsive and optimized for mobile devices.
Implement secure payment gateways: Set up secure payment options on your website to ensure a safe and convenient shopping experience for your customers. Popular options include PayPal, Stripe, or integrating with a trusted e-commerce platform.
Offer various coffee options: Provide a wide range of coffee options, including different flavors, roasts, blends, and origins. Consider offering sample packs or subscription services to attract more customers.
Provide detailed product information: Include detailed descriptions of your coffee products, with flavor profiles, brewing recommendations, and origin stories. This helps customers make informed decisions and builds trust in your brand.
Focus on branding and packaging: Develop a strong brand identity and design appealing packaging for your coffee products. Eye-catching branding can help differentiate your products from competitors and attract customers.
Implement effective marketing strategies: Utilize social media platforms, email marketing, content marketing, and search engine optimization (SEO) to promote your coffee brand. Engage with your audience, share brewing tips, offer discounts, and collaborate with influencers to increase brand visibility.
Provide exceptional customer service: Respond promptly to customer inquiries, offer assistance, and resolve any issues quickly. Positive customer experiences can lead to repeat purchases and positive word-of-mouth recommendations.
You may notice some features in the mentioned coffee selling examples and want to include them in your future website. Don't hesitate to contact us for implementation, together we will make your dream come true.